…by Sue Giustino…
Opening their doors in Montauk in the summer of 2012, Swallow East has been welcoming new and returning diners ever since. The waterfront view of the harbor, whether you are sitting inside gazing through the wall of windows or dockside, creates a serene ambiance.
Although, as of our visit, the bar was not open for seating, the bartenders continue to mix up their tasty signature cocktails. Two of our favorites are the refreshing rum punch, and the tart and spicy Tallulah made with jalapeno strawberry infused tequila.
If you've never eaten at Swallow, it's good to know that their menu is created for sharing, yet if you enjoy your own plate, ordering a few of the small plates works as well.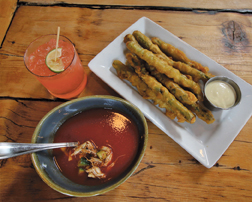 Heather, our pleasant and attentive server, agreed that the calamari and asparagus are popular go-to items, so that's where we began our small plate adventure. The Asparagus Fries are beer battered, crispy and tender; excellent with or without a bit of the lemon Dijon aioli dipping sauce. While the sweet and spicy Thai glazed Crispy Calamari with chopped peanuts and scallions, served with chopsticks, are cooked to perfection and another great choice. New to us, was the Old Bay Pineapple Tomato Gazpacho, topped with diced cucumber and jumbo lump crab meat. Gazpacho is always prepared differently, and this style was tasty, light, and refreshing.
As we finished our firsts, gazing out at the boats and sipping our drinks, Heather let us know that the next three items would be chosen by the chef. Having a nice relaxing break before the next round arrived, we enjoyed the ambiance of the room and watching the chefs' work in the open cooking station.
Delivered by James, the owner, he described the 'surf and turf' style plates and informed us that they were some of his favorites. And they did not disappoint!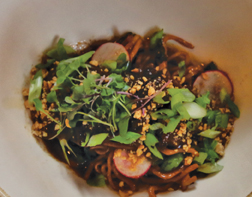 Sitting atop a bed of lo Mein prepared with chili oil and chopped peanuts, the Dr. Pepper glazed Braised Short Ribs are fork tender; quite a unique and flavorful dish. Our 'surf', a perfectly prepared Pan Roasted Fluke with miso mirin glaze, was resting on charred bok choy and orzo. The tender fish is slightly crusted with the sweet glaze adding character to the more subtle flavors of the orzo and bok choy creating a light enjoyable dish.  Although not presented as a pairing, this was a lovely alternative to the usual 'surf and turf' combination; with the bold flavor of the short ribs nicely complimenting the more gentle flavors of the fluke. Rounding out the meal was a side of Mexican Street Corn; with roasted corn, crema, queso fresco, scallions, and lime is served off the cob- it was bursting with flavor.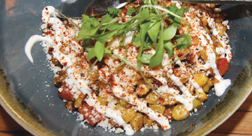 With the changing look of dining we've all experienced these past few months, it's nice to once again enjoy a dinner out. I admit, we were a bit hesitant to dine inside, but the spaced tables and staff all masked up, quickly put us at ease. Although working as hard as they were and wearing a hot mask, everyone was extremely friendly and attentive. Living by their philosophy of great food, great service, and great atmosphere, Swallow East continues to please. ​
They are also available for clam bakes, private events, corporate dinners and weddings. For additional information see their ad or check the web site: https://www.swalloweastrestaurant.com/