a special hidden-away delight
…by Sue Giustino…
Back for another season, Colleen and Chef Steve along with a new addition, assistant Chef Ron Marcotrigiano are cooking up Breakfast and Lunch treats as only they can. Situated at the base of the back parking lot at the Wavecrest resort overlooking the Atlantic, this spot and the delicious meals they serve are a perfect Montauk escape.
Cooking with fresh ingredients and prepared as requested, the Breakfast options vary from egg wraps, quesadillas, French toast, pancakes, sandwiches and omelets, with fresh vegetables, avocado, bacon, toast, home fries, and salsa. One of my favorites is the Aussie Wrap: scrambled eggs, spinach, tomato and an avocado/ feta mix in a whole wheat grilled wrap.  Although the wrap is quite large, if you are looking for something heartier, try the Sabella's Local Special: two eggs with bacon, lettuce and tomato and cheese on a roll.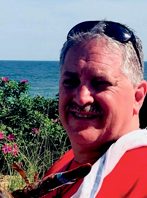 Along with Ken's mom Helen, we enjoyed our breakfast on a beautiful morning while overlooking the beach.  I had the Aussie Wrap and Kenny had his favorite, the Sabella. Helen tried the Bacon, Egg, and Cheese Quesadilla; prepared with cheddar and jack and a side of salsa, she loved it so much she can't wait to go back again.
Lunch offerings include sandwiches, salads, a variety of wraps, cheese or chicken quesadillas, chicken tenders, fries, or burgers. When you get there, check the board for occasional daily indigenous fish specials, and they even offer 'Little Bites' for the kids. A variety of smoothies are also available which are a
great choice on a hot summer day.  Everything they make is always fresh and delicious. However, the two items that people keep coming back for are Steve's famous buttery Lessy's Lobster Roll with fresh shucked poached lobster and butter on a grilled brioche roll with a side salad, and Colleen's Downtown Philly Cheese Steak topped with American cheese, peppers, onions, and mushrooms on a wrap or hero.
You can find their smiling faces there every day from 8am-4pm, and 8am-6pm on Saturday. Order food to go, or enjoy it overlooking the beach at the tables perched above the beach.  They are located at 170 old Montauk Hwy – The Wavecrest – between Gurney's and Hither Hills State Park.