by Susan Diviney
Well, Dorothy, you're sure not in Germany anymore! The former Zum Schneider restaurant has been elegantly transformed by new owner, Kristin Vincent into Sel Rrose.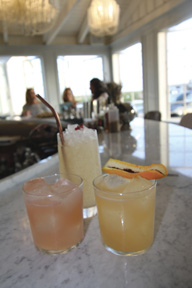 Entering, we were welcomed by Dublin native, Daryl, behind the sparking pearl mosaic bar. He mixed us some really interesting cocktails — the Fountain, refreshing peppery grapefruit; the husky, smokey Hunter and Froze, frozen vodka, rose, strawberry slush were our favorites. We left the bar to walk through a lounge area where you may order food or sit with a cocktail as you wait for a table in the main dining room.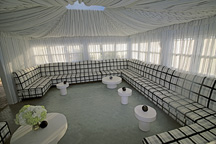 The cozy cushioned seating and glorious fabric-covered ceiling made me want to curl up with a book and stay a while. But my stomach was growling, so we continued on to the lovely dining room. Floral themed, hand painted walls behind rustic white lattice are illuminated by original industrial lights from the Montauk Playhouse to create a pleasant french country ambience. The
window walls were folded up on this gorgeous evening for al fresco dining.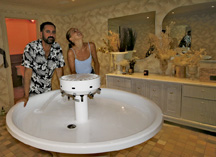 Our server, Marian, was quick to get us settled and make sure we were good with drinks. We then met Chef Dave Bortnem, who joins Sel Rrose from the wonderful Tuscany restaurant at Mohegan Sun. He spent time walking us through the interesting, eclectic menu and then we were ready to go!
We were a party of four and decided to order courses and share everything, which worked well. Expecting small plates, we were pleasantly surprised by the generous portions. We began with the Small Tower consisting of local oysters, shrimp, mussels and half a lobster. The briny, sea-kissed oysters were plump and fresh as could be. We also loved the tasty mussels, chilled jumbo shrimp and sweet lobster that arrived with four delectable dipping sauces. Next up was the truffled risotto croquettes – crispy, creamy little pillows paired nicely with spicy arugula. The Burrata was like velvet with rich roasted tomatoes and basil rather than the usual cold tomato slice. I had never tried tuna tartare and I'm happy that I did – a decadent dish full of flavor that opened my taste buds to something new. Brussels sprouts arrived with a perfect char and complemented with diced apples.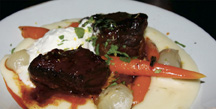 The happiness continued with our main courses, but first, a word about the wine. It was explained to us by one of the restaurant managers, Marlin, that they have carefully and very deliberately selected wines from nearby vineyards that use only natural methods and organic components to create their wines. As a result, the wine list is succinct and prices are somewhat dear. But don't let it put you off – the Pinot Noir and Sauvignon Blanc we sampled were outstanding!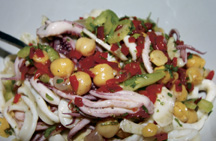 On to the mains… the unexpected preparation of poached calamari with pickled peppers, chick peas, fennel and celery was simply bursting with flavor, great texture and just the right amount of acidity. Short ribs in a succulent rich sauce, served with velvety mashed potatoes and horseradish cream were so tender they melted in your mouth. The pièce de résistance was the lobster roll — ample, firm, sweet with just a nod to mayo – herb seasoned and chilled to perfection. To sum up the meal: Lip smacking deliciousness!!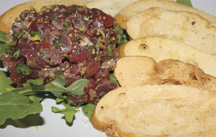 The courses were paced perfectly – we never felt rushed or impatiently waiting for the next to arrive. The staff couldn't have been nicer or more accommodating. Welcome to Montauk Sel Rrose and Chef Dave — we're very happy to have you!
4 South Elmwood Avenue    •    631.668.8218    http://selrrose.com/montauk