by Sue Giustino
Located just outside of town within a canopy of trees, the Ruschmeyers property- with a history dating back to 1952- includes cottages, a backyard sitting/playing/dining area, and a spacious dining room and bar. The restaurant is open Sunday – Friday 6pm to 10pm and Saturday 3pm to 10pm.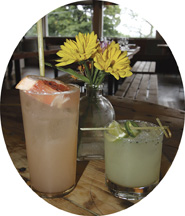 This season they welcome Chef Flavia Amaral to the kitchen. Flavia grew up in Spain and Brazil, and trained in Switzerland. Arriving here eleven years ago, Flavia has an array of experiences including the 1770 House in East Hampton and she most recently helped open Gurneys Montauk. As is the healthy trend, Flavia's menu offers simple, clean, locally sourced items; from 'Shares' to 'Salads and Sandwiches', 'Pizzas', 'Entrees' and 'Sides'- all prepared fresh and delicious. Her international flair is a welcomed addition to Ruschmeyers.
We arrived on the evening of our tasting and was seated in the spacious dining room which has a bit of a feel of being outdoors. With large windows welcoming in the trees and view of the lake, the outdoor feel is enhanced by the wall of greenery and soft lighting. Starting with a 'Happy Camper' and a 'Paloma' just two of their signature cocktails we decided on a few appetizers. However, before they arrived, the Chef sent us Shrimp Empanadas-a special for the evening. Served with a spicy mayo drizzle, micro greens, and arugula the tasty shrimp were encased in the lightest crispy crust I've ever had for an empanada.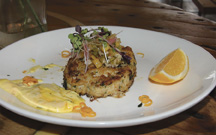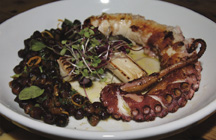 From that point, it was chef's choice! Following that empanada treat could be difficult for some, but the rest of our appetizers were also excellent. The Ritz Crab Cake is full of lump crab, lightly seared and topped with a mango Pico de Gallo and aioli.  Crispy Cauliflower has an array of competing flavors, honey mustard, red chills, cilantro and apricot, that blend perfectly into a delicious dish. Finally, the Octopus which is poached to perfection and gently grilled resulting in the most tender inside and crisp outside piece of octopus I've ever eaten. Served with a black chickpea salad and heart of palm this was a table favorite!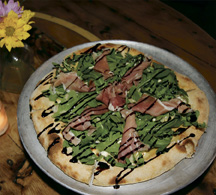 The Pizza menu offers six thin crusted pies with varying toppings including: the Vongole with sautéed Clams, the Tuna with tuna ventresca, and the Taleggio with Italian sausage. We chose the Parm which had thinly sliced Prosciutto Di Parma, arugula, burrata, shaved parmigiana reggiano and balsamic glaze. It was fresh, light and crisp- an excellent summer pie. One of the sides we enjoyed is the Sautéed Long Island Corn; so unique and tasty with a blend of tomato and parmesan and just a hint of citrus.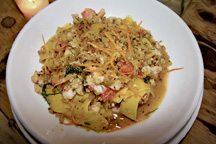 From the entrees, we indulged in the Lobster Pappardelle and the Pan Seared Montauk Seabass. The Seabass was pan seared to perfection with tomato confit, grilled lemon slices and thyme; just enough flavor to accent the freshness of the natural fish flavors. Finally, homemade wide, thin Pappardelle pasta blended with chunks of fresh lobster, white wine, red chilies, and roasted tomatoes and sprinkled with citrus breadcrumbs was outstanding. As I told the chef, it's the perfect summer pasta dish and I could easily eat it every night for dinner.
Although we were too full for dessert, be sure to ask your server for nightly specials. Everyone was very accommodating and the service perfect.  Compliments to Chef Flavia, each dish was clean and simple yet the flavors popped. The presence of the citrus accent in many of the items added even more of a creative enhancement.
Be sure to check out the new menu and say hi to the Chef.