by Sue Giustino
Sandbar Montauk is Located at Royal Atlantic Hotel – offering a newly renovated Oceanfront Tiki Bar & Restaurant.
On the beach in the heart of Montauk, this is the perfect spot for a break from the sun, or even an afternoon lunch with friends. Offering a casual fun vibe with friendly service, it's the only place on the beach from the lighthouse to Gurney's.

Highlighting 21 Seeds Tequila, you can enjoy a pineapple jalapeno, cucumber jalapeno, grapefruit hibiscus, watermelon, or traditional Margarita. My favorite was the Pineapple Jalapeno which has a perfect blend of spice with a dash of pineapple flavor. Of course, the bartenders are also creating the perfect Mojito [one of our favorites as well], Coffee Coladas, Peanut Butter Mudslides, and Frosé made with fresh berries, vodka and rose.
We enjoyed a sunny afternoon sitting at the railing overlooking the beach, sampling some of the mid-day offerings- with the wind, sun, and surf providing the perfect 'beginning of summer' atmosphere-. The Grilled Chicken Sandwich was tender and adorned with avocado and flavorful chipotle mayo.  Three Fish Tacos are grilled local fish on soft shells with corn salsa and spicy avocado tomatillo sauce. Each of these dishes were fresh, delicious, and perfect seaside fare. However, our favorite was the Lobster Quesadilla.  Stuffed with a generous portion of lobster mixed with a lobster cream parmesan and Monterey jack this may be the best Lobster Quesadilla I've ever had.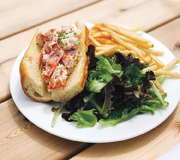 Created by Executive Chef Joaquin Melo, the menu offerings range from unique seasonal appetizers, soups, and salads to sandwiches, lobster rolls and main meals. Breakfast, Lunch and Dinner is offered daily; check out the menu at: https://www.sandbarmtk.com/menu .
Sandbar Montauk · 126 S. Emerson Ave. #1, Montauk
631.668.1511 · https://www.sandbarmtk.com/