by Sue Giustino
As always, this family friendly waterfront gem is a great place for afternoon or evening drinks and dining; offering in and outdoor seating, two bars, great food, and live music. In addition to a complete Sushi menu, the appetizers, sandwiches, main meals, kids' meals, and nightly specials are sure to please everyone.
This year, George Nikolopoulos, their sous chef for the last four years, has taken over as Head Chef.  In addition to their regular menu favorites, like the award winning Clam Chowder and the infamous Westlake Burger, George is adding a bit of his Greek heritage to spice up the nightly specials.
We enjoy dining in the back bar area with great views and a lively atmosphere. Although sitting inside, as well as out under the tent also offers unique dining experiences. Starting with a few specialty cocktails, we enjoyed: the herb forward fresh Basil Lemonade, the 'spicy' Sea Dragon with jalapeno infused Tequila, triple sec, pineapple juice, and a splash of homemade sour mix, and the Broken Radar which took the prize at 18oz of a blend of light, dark and spiced rum with fruit juice; quite a unique- and large- rum punch.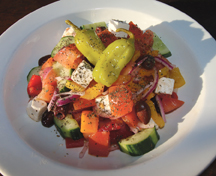 We left our appetizer choices up to the chef, and each one was terrific. The sesame teriyaki Shishito Peppers, a special for the evening, had such a great flavor and was a nice change from the traditional oil and salt shishito dish. A table favorite was the fresh aromatic chunk Greek Salad. A blend of red and yellow peppers, red onion, cucumber, olives, tomatoes, feta and fresh herbs with a light dressing, elicited a spontaneous comment, "It tastes like Greece", from one of our friends. The Fish House Tacos can be a dinner or a shared appetizer with three tacos adorned with a thick piece of cornmeal crusted Mahi-Mahi on a soft shell with Pico de Gallo, and lime cream.
From the sushi bar, the Yellow Tail Tiradito consists of perfectly sliced yellowtail topped with shaved jalapeno and Yuzu sauce.  While the Pepper Tuna adds a little peppery flavor to the thinly sliced seared pepper crusted yellow fin tuna with Ponzu sauce. Both were fresh and delicious, presented on a platter garnished with delicate julienne cucumber.
Wanting to sample an array of dinners, we chose the Pan Roasted Salmon and Fish & Chips which are long standing favorites, as well as two dinner specials. Light and fresh, served with a mustard sauce, sweet niblet corn and asparagus, the Pan Roasted Salmon is always delicious.
The Fish & Chips is a large portion of crisp and tender cod fillet with remoulade sauce and an abundance of fries making this dish an all-time favorite. For pasta, we had the special Shrimp Pasta a la Vodka. With a bowl of perfectly cooked pasta blended with a tasty a la vodka sauce, and topped with an abundance of tender shrimp, it was an excellent choice. Finally, due to the recommendation of our waiter Greg, the Chicken Gyro special was calling me. This traditional Greek favorite, has a large pita wrapped around tender grilled chicken with lettuce, tomato, and onion all dressed with Chef George's homemade tziki sauce.
As always, the food was delicious, and you can't beat the rustic waterside ambiance overlooking the marina. Ask your server about the dessert menu which includes a chocolate cream centered brownie Lava Cake, and a layered peanut butter moose and chocolate cake Peanut Butter Explosion. Because, there's always room for dessert!
Check the website for times and live music schedule!
Westlake Fish House · 352 Westlake Drive, Montauk, NY
631.668.FISH (3474) · https://westlakefishhouse.com/