by Sue Giustino
Since they opened in 2010, Navy Beach has been the one restaurant in Montauk where you can dine with your feet in the sand. In addition to a spectacular view with a breathtaking sunset, while enjoying consistently fresh and delicious costal cuisine, in a laid back, family-friendly setting on a 200 ft. private beach on Fort Pond Bay.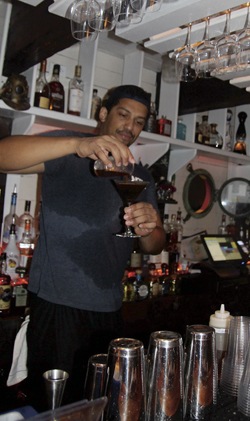 Over the years, Navy Beach has evolved into a popular boating destination, with interior dining in the nautically themed bar and dining room, as well as outside at picnic tables and lounges on the beach.  An afternoon on the sand with a glass of rose, enjoying the boats, paddle boarders, swimmers, an occasional seal swimming by- it doesn't get much better.
Our visit was on a gorgeous July evening, and upon arrival we were greeted by Dan, the GM, and seated at a lounge chair set-up by the water.  With the sun shining and a cool breeze off of the bay, it was a lovely evening to be outside. To start, our waiter Domingo had Bishop at the bar mix us a few cocktails. The vodka GINGER THOMAS is blended with ginger simple, lime, cucumber, and mint. For the Gin lovers, the BASIL BREEZE with elderflower is a refreshing choice. Rose Prosecco, grapefruit liquor and lime makes a light bubbly LOADED PALOMA.  And getting inspiration from the setting sun, the SUNSET MARGARITA is vibrant in both color and flavor. Each cocktail has tasty combination of flavors resulting in creative summer drinks appealing to a variety of palates.
Each year the menu is tweaked; some of the favorites remain, but many of the others vary is style and ingredients. Three of the consistent items are the YUNNAN RIBS, BUTTERMILK FRIED CHICKEN served with cheddar-jalapeño cornbread, house made slaw, and the NAVY BURGER topped with bacon-onion marmalade, Cabot cheddar, house pickles, and hand-cut fries. They have survived the test of time and earned their rightful permanent place on the menu.
To get us started on our tasting journey, Domingo suggested he presents our dishes in pairs. So, the first round was Tuna Crudo and Calamari Salad.  Of the four lovely salads available, we decided on the CRISPY CALAMARI SALAD consisting of a bed of endive and frisée in the center of a ring of perfectly tender and crisp calamari, with a sweet and spicy chili-garlic dressing. This is a popular dish in Montauk, and I love that each restaurant has their own twist making them not only delicious, but a bit unique. TUNA CRUDO is a delicate fresh raw tuna delicacy which is traditionally topped with olive oil, citrus, or some type of vinaigrette to enhance the dish. This clean, lightly dressed version was prepared with yuzu and topped with nori, crisp diced Asian pear, watercress, jalapeño, and toasted sesame.
Another popular dish is Grilled Octopus. It's been around Montauk for a number of years, but at first, getting one that was cooked correctly, tender not tough, was a gamble. Well, the secret to success must be out because I've had it at three different venues this season, and each one was cooked beautifully, yet in completely different styles. Our delightful gently flavored CHARRED PORTUGUESE OCTOPUS served with watermelon, pickled red onion, goat cheese, and chimichurri was done perfectly. The smooth, creamy GRILLED AVOCADO is an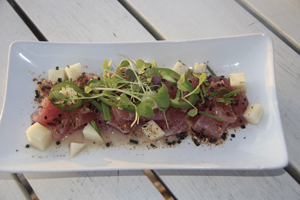 unpeeled avocado sliced in half, lightly grilled, and then dressed with a bit of tomatillo and large chunks of chilled shrimp, all sprinkled with shaved ricotta salata and plated with Calabrian chile oil and tortilla crisps. A delectable choice for a light summer salad or appetizer.
Next, we chose two of the three fish choices from the menu. Looking like a picture, the SOY-GLAZED HALIBUT came on a round shallow bowl atop a bed of sushi rice and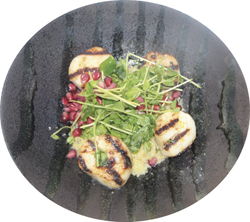 goma wakame, surrounded by a flavorsome red curry
coconut sauce and black sesame. The soy glaze helped crisp the top of the thick piece of fish while adding a bit of extra zest and keeping it moist throughout; it was simply delicious! Equally fresh, tender and delicate was the lightly grilled LONG LINE SWORDFISH perched on a dish of whipped
feta and white beans, and accompanied by summer greens with blistered tomatoes and a sundried tomato vinaigrette. We really couldn't decide which we enjoyed more. Both dishes allow the gentle fish flavor to shine while the sauces lightly accent their natural flavors.
Our final pair was with a pasta and scallops. Initially when we spoke with Dan, he suggested the pappardelle with added scallops. However, the grilled sea scallop dish sounded so delicious that we decided to add grilled shrimp to our pasta instead.
The MUSHROOM PAPPARDELLE prepare al dente, is made with a portobello and shiitake nage blended with cream, rosemary and kale, and sprinkled with grated parmesan. The flavor was very clean and mild, and the addition of the grilled shrimp created a nice way to enjoy a light summer pasta dish. I love scallops, and these did not disappoint. Served on lemon couscous, the beautifully GRILLED SEA SCALLOPS with a fresh Meyer lemon vinaigrette and pomegranates, has remarkable flavors and texture. The firm yet buttery scallops, along with the tender and coarse texture of the couscous makes an ideal combination. While the citrus of the lemon and the sweet/tart addition of the pomegranates is a quite pleasing compliment to the mild scallop flavor.
Dessert was absolutely out of the question for us, but ask your server about the Brownie with vanilla ice cream, Key Lime Pie, and Salted Caramel Cheesecake. However, we decided to enjoy a martini as the evening sky grew dark. Realizing that glass is not a good idea on a beach, we chose to go inside to the bar and join Bishop and Serena for the ACT OF GRACE – an espresso martini with vodka, espresso, and coffee liqueur, and a Bailys Martini. Both quite delicious and always better in a lovely martini glass- which Bishop had prepare with ice to chill the glasses and was waiting for us as we moved inside.
We had a lovely evening of great food, ambiance and efficient friendly service. Each dish, prepared by Chef de Cuisine Randy Santos and Sous Chef Howard Anderson who have both been with Navy Beach for over a decade, had a beautiful presentation, aroma, and flavor. Add this to alluring seaside, nautical surroundings and your summer dining experience is complete; satisfying all of your senses!
For more information, reservations, and entertainment, go to https://www.navybeach.com/montauk/