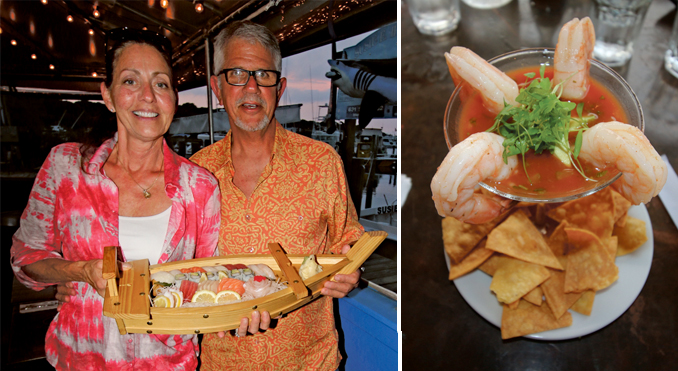 by Sue Giustino
10 years ago, James and Laura Lyons began their Westlake Fish House endeavor here in Montauk – and today they have one of Montauks best seaside casual, family friendly destination restaurants. Located on the dock in the West Lake Marina, diners can choose to eat in the dining room or at an outer porch table, or at either bar. Dockside picnic tables are also available for take-out or a cocktail, where you can sit enjoying the sun, boats, and often live music. Either way, the vibe is relaxed nautical and the food is consistently great.
Sushi of every variety is prepared fresh to order utilizing local fresh fish. In addition, Chef George creates specials incorporating Montauk's daily fresh catch. The night of our visit, we had the pleasure of enjoying Sous Chef Yoxtal Lucero's (but everyone calls him Yucca) turn in the kitchen.  After a delicious Paloma at the bar, Laura seated us overlooking the fishing boats in the sunny bustling outer room. Our friendly waiter Johnny took it from there and the food fest began.
To start, we ordered a few appetizers, and the chef decided to send some extras. One of my favorites, the Westlake Salad is an amazing blend of flavors and texture. Fresh crisp frisée and radicchio, banana peppers for a bit of heat, sweet mandarin sections, and crispy flash fried calamari all blended with a light orange sesame vinaigrette. It's always delicious and a great way to start
a meal.
The Westlake Roll with avocado, spicy tuna, and shiso inside, and topped with fluke and sea bass is also a favorite. As with all of their specialty rolls it's a wonderfully fresh combination of flavors. Another fish that is a great starter, is the White Tail Hamachi which is sliced and presented on a platter of citrusy yuzu ponzu sauce and topped with a slice of jalapeno. The colorful Seasonal Crudite Platter is a designed to share.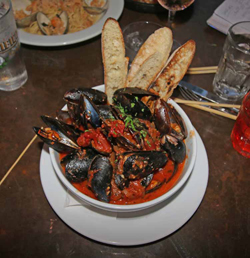 Crisp vegetables- cauliflower, peppers, carrots, radish, asparagus, and tomatoes surround two endive boats of hummus and tziki; fresh, healthy, and yummy. One of my new favorites, is the Mexican Shrimp Cocktail.  Instead of traditional cocktail sauce, these perfectly poached- just to crisp large chilled shrimp are draped on the side of a glass goblet filled with a saucy avocado salsa and topped with fresh cilantro. Crispy tortilla chips sit along the base, ready to be enjoyed with the salsa. For the spice lover's palate, the tender Mussels Fradiablo (also available with herbs, white wine and butter sauce) bursting with delicious spicy flavors, is a perfect dish.  The mussels are served in a bowl and accompanied by grilled baguettes ready for dipping and soaking in the sauce.
Grilled Octopus is special treat which I've enjoyed many different ways, and at Westlake it's no exception. Masterfully grilled tender, the charred delicate octopus is then displayed across the plate, topped with chimichurri and microgreens, and surrounded by white beans and half a grilled lemon, creating an exquisite dish.
We've shared many meals at Westlake Fish House, but this time the chef chose a few dishes that we don't usually order. Vegan Zucchini Noodles are blended with a tasty fresh marinara, and plated with multi color cauliflower and parmesan. They also added grilled shrimp, which was excellent with this perfect light summer pasta alternative. If you want the real thing, the Linguine & Clams is just for you. A generous portion of linguini with an abundance of tender local clams all soaking in a light aromatic broth with oregano, garlic, lemon and oil, and additional fresh steamed clams on top, resulting in another flavorsome choice.  What would a day in Montauk be without tasting some lobster? At Westlake, they've designed Lobster Roll Sliders on toasted brioche buns that are a perfect size for sharing as an appetizer or a meal for one; fresh and delicious.
  The menu encompasses a lovely array of raw bar items, rolls, by the piece, and house specialty rolls. Johnny brought us a gorgeous Sushi-Sashimi Deluxe assembled in a wooden serving boat. A line of cut to order sashimi on a bed of daikon strings, a ginger flower and lemon slices on one side, and a variety of sushi on the other, all surrounding a California Roll, adorned with pickled ginger and fresh wasabi- a sushi loves dream almost too pretty to eat. There's something refreshing about enjoying fresh fish, shellfish, sushi and rolls dockside, with a lovely view of the water and fishing boats setting out or coming in with their catch, the bright sunshine or setting evening sun, and the cool sea breeze.
Desserts are always tempting- I often want to start with them so I can enjoy all of it. However, as usual ours came at the end-and they were decadently delicious. The warm Chocolate Lava Cake topped with a scoop of vanilla ice cream sits on a swirl of butterscotch and is adorned with fresh cream and berries. Strawberries and sauce sit atop the Cheesecake on a plate with a drizzle of raspberry, fresh cream and berries. And finally, the Vanilla Ice Cream Sundae with whipped cream and chocolate syrup dressed with a colorful spray of sprinkles and fresh berries, all in a massive goblet and looking like it came right from the corner ice cream shop!
As always, this family friendly waterfront gem is a great place for afternoon or evening drinks and dining; offering in and outdoor seating, two bars, consistently pleasing food created by Head Chef George Nikolopoulos, and weekly live music. [Be sure to check the entertainment section of the paper.] In addition to a complete Sushi menu, raw bar, appetizers, sandwiches, main meals, and sides, they have a number of exciting Kids' Meals and nightly specials that are sure to please everyone.
Congratulation to James, Laura and their friendly staff on a wonderful 10 years, we hope you'll be around for another 10!
Westlake Fish House is located at 352 W Lake Dr, Montauk, NY 11954.   They are open 7-days for Dinner and Friday-Sunday for Lunch.
For more information: https://westlakefishhouse.com/