…by Lorraine Salvato
Better Than Ever!!!
Whether you enjoy, physical competition, great beer, the chance to win over 50 great raffle prizes – or just love meeting terrific people at a great event – this is the time and place to participate.
On Saturday, November 4, spirited teams assembled to "Row, Bike, and Run" for the coveted prize of being Montauk Brewery's Annual Winners of their fundraiser for The Old Montauk Athletic Club. The proceeds of the event make local scholarships available from the OMAC. This year's competition included 33 teams, with each team having at least one female.
Outside the Brewery, the stationary rowers kicked off the event with a high energy 5,000m row, followed by each squad's bikers competing for 15k. The team's runners pounds out a 5k, then the rowers take over again for 2,500m.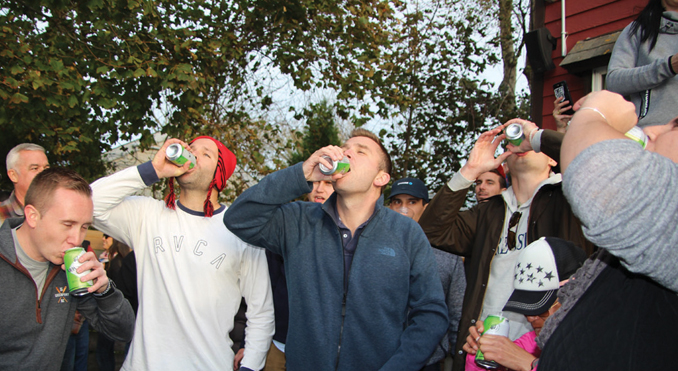 This challenge is then crowned by each teams' 'chugger.' If you are not athletic, this is your favorite part! Three rounds of chugger efforts generate the winner of the last lap and all results culminate in the team's winning times.
The top three winning teams this year were: First Place – The Bad News Beers, Second Place – Irish Clams at Work and Third Place – Team Low Estrogen.
The day was beautiful. The crowd all shared in the spirit of the energy and good will of the event and it surpassed the expectations of all who were involved. Every ounce of this fundraising effort resulted in the tremendous success of this event!
Get your team together – there is plenty of time to train and get on board for next year.