by Sue Giustino
After planning, renovating, and working through the COVID dilemma, Mario, owner and operator of Kenny's Castaways on West Lake Dr., is excited that he was finally able to open this season. Serving authentic Italian dishes, he and his staff have created a lovely spot for dining and gathering.  Together they have perfected the menu, which is expertly prepared by Chef Luigi and Chef Roberto in Authentic Italian Style.
As you walk through the door into the low lights and vast bar, you get a warm and welcoming feeling. With a friendly greeting from Alex behind the bar, we decided to join him for some pre-dinner drinks. The Watermelon Basil Fizz has a gentle summer breezy watermelon flavor from the Grey Goose essence watermelon blended with soda and club.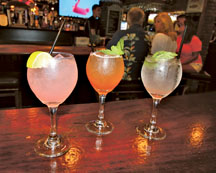 For rum lovers, The Castaway is a perfect blend of Real McCoy 5yr old rum, fresh lime juice, caramelized pineapple syrup, angostura bitters, absinthe, fresh mint and club soda. My favorite was the Kenny's Paloma, which I substituted Herradura Tequila for the Mezcal, along with fresh lime juice and pink grapefruit soda, it was light and refreshing. In addition to a number of other unique creations that sounded wonderful, they have an array of flavored Frozen Margaritas, as well as a complete beer and wine selection.
After our visit with Alex, we chose to sit out on the front garden deck for dinner. There are three additional rooms to choose from, each with its own ambiance, including one that is glass enclosed.   As we sat and enjoyed the olives, and fresh rosemary focaccia with seasoned olive oil, we admired the sculpture in the front of the property. Mario explained that it's called "Vortex" created by sculptor Hans Van de Bovenkamp. He noted that it has been quite the attraction, telling us that there has been much admiration and posing for pictures with it. It is for sale, so if you are interested, see Mario.
The menu includes an array of Appetizers, Insalata, Romana Style Gourmet Brick Oven Pizza, Pasta, Fish, Poultry, and Meat. Everything is made in-house with fresh, locally sourced ingredients, and of course 'a taste of Italy'. Chefs Luigi and Roberto came out to speak with us about our meal; deciding to let them choose, they came up with a nice selection for us to enjoy.
For appetizers we had Mamas Meatballs and Mozzarella Napoleon. 'Meatballs like your Mama used to make', if your Mama had an Italian flair. Served with a tasty and fresh marinara and topped with ricotta cheese and herbs, they are perfect- and I'm rather particular about my meatballs! Presented on a large dish the Mozzarella Napoleon is stacked with fresh and tender Sliced Heirloom Tomatoes, Grilled Eggplant, Roasted Pepper and topped with Fresh Mozzarella.
Adding a perfect flavor accent, the stacks are dressed with infused Basil E.V.O.O. and a rich balsamic drizzle. Although this is considered an appetizer, it can also serve as a salad. The other choices for salad include Classic Caesar, Watermelon, Beet, or House.
Our waiter Josue arrived with our next course, the Margarita from the Romana Style Pizza selections. Homemade fresh burrata along with Mutti Tomato and Basil atop a thin, crisp, brick oven baked crust- it reminded me of our favorite pizza-in Rome- during our trip to Italy. Check out their website or menu for other Romma Style Brick Oven Pizza options including the Inferno and Tartufata, among others.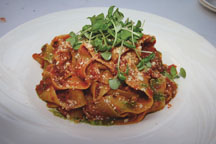 As with any good Italian meal, the pasta course comes next. We enjoyed the Fresh Pappardelle with assorted Meat Bolognese. The wide pasta was cooked perfectly and adorned with a delicious thick and hearty tomato meat sauce, resulting in a forkful of fresh and tasty goodness with every bite.
For our main, the 10oz Espresso Encrusted Fresh Yellowfin Tuna was absolute perfection. Blackened edges with a tender cool center, topped with Caramelize Onions,
dressed with fresh ginger with fennel seed, and prosecco emulsion, this dish was our favorite. The gentle sweetness of the onions, with the deep espresso crust, and spice of the ginger makes for a delicious balance of flavor.
What a lovely way for the four of us to enjoy our meal; each course was delicious, timed perfectly, and plenty for us to share. Sharing the multiple courses is a great idea, with so many other options that look and sound fabulous, some of which we've enjoyed in the past: like the Black Angus Filet Mignon, Chicken Parmigiana, Linguine with Clam Sauce, and Pulpo Castaways Grilled Portuguese Octopus.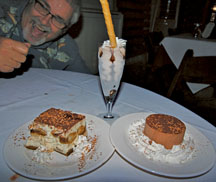 I know there's not always room for dessert, but the selection is amazing so you may want to save a bit of room. With a choice of Gelatos, we enjoyed the Hazelnut that came in a parfait glass with hot fudge. If Tiramisu is something you enjoy, this espresso-soaked ladyfingers treat was light, fluffy and delicious.  However, hands down for me was the Chocolate Truffle. Pure chocolate goodness, it may look like a little cake, yet it is the creamiest chocolatiest truffle; worth every calorie.
'Casual, Family Friendly Italian Restaurant & Bar with brick oven Pizza'
The friendliness and fine service of Mario and his staff at Kenny's Castaways exemplify their claim to "Come in as a Stranger …… Leave as a Friend".
For full menu, directions and further details see their add and/or go to: http://www.kennyscastaways.com/ .