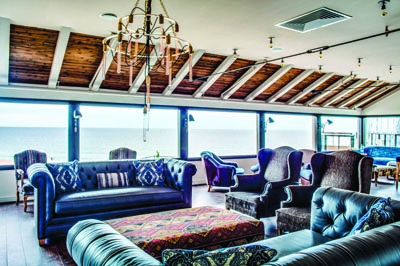 Recently we had a lovely chat at Tillies with Gurney's Montauk owner operator George Filopoulos. He is the hands on guy running the show from the numerous renovations, inception of a variety of guest services, wedding and business events, creating a whole new dining and entertainment scene, as well as being part of community events on and off property.
According to George, Gurney's has had a very successful rebranding over the past year and as a result, they now intend to keep their Italian Restaurant, Scarpetta Beach open year round with slight seasonal menu changes. Originally the intent was that it would be seasonal and only Tillies would remain open year round. In addition to the success of the restaurants, he told us that they have over two times the number of Fall and Winter bookings versus a year ago along with twenty weddings in September and October.
Although the Fall is traditionally 'off season', here at Gurney's there are many new year round activities so the 'o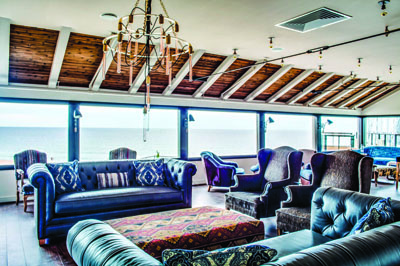 ff season' really isn't so 'off'. George reminded us that September is still beach season and the Beach Club will continue serving lunch and offering the beautiful daybeds for the enjoyment of beachgoers. On Saturday evenings the Seawater Pool becomes a 'swim-in' movie theater for families to enjoy a unique movie experience. The Kids Club, which operates daily throughout the summer, engages children in a variety of activities including swimming in the pool, crafts, and beach activities, will also continue on a scaled down schedule.
This past July, in cooperation with the Tribeca Film Festival, the spa roof became home to a 40 ft screen where visitors enjoyed a film from the Festival; they are planning to continue offering a movie series throughout the year. Other events include participation in the MTK Seafood Festival, the Fall Festival, and being host to the opening party for the Montauk Music Festival in May.
As we spoke to George, he hinted about a special winter development that is in the works.  Due to his obvious 
excitement about the news, it didn't take too much convincing for him to share. This winter, the spa roof will transform from an outdoor theater, all purpose spa area, and giant sized game room … to an outdoor Ice Skating Rink! Complete with an ocean view, skate rentals, and nighttime bar, this will be a perfect family winter fun spot.
This fall, the Gurney's Sea Water Spa welcomes a new Spa director and they are looking forward to her expertise. In addition to beauty and body treatments, fitness is a big emphasis at Gurney's. Throug
hout the year the daily classes,as well as special weekend wellness series events-where each week different fitness providers hold weekend classes-will continue. The instructors have big followings and provide exceptional information and instruction; classes are held in the spa, outside on a deck or on the spa roof, as well as on the beach.
In total there are five new eating and drinking options at the hotel. Scarpetta Beach with signature classics and seasonally influenced dishes is open for dinner daily.  Tillies, casual American favorites with a twist and featuring a seasonal menu, is open for breakfast and lunch daily. 
Corso Coffee centrally located just off the newly renovated lobby, offering a variety of artisanal coffees from handcrafted, wood-roasted Tuscan espresso to American beans roasted locally in Long Island City. They also have a grab-and-go menu of freshly baked breakfast pastries, sandwiches, salads, as well as gelato and fresh juices; all available to take on the road or enjoy in one of the in or outdoor lounge areas. The Beach Club located on the 1,000-foot private beach serves wraps, fish sandwiches, burgers, salads, and other special beach friendly options. They're open daily 11am- 6pm.
The Regent Cocktail Club is a unique lounge serving crafted cocktails Thursday through Saturday nights.  The Regent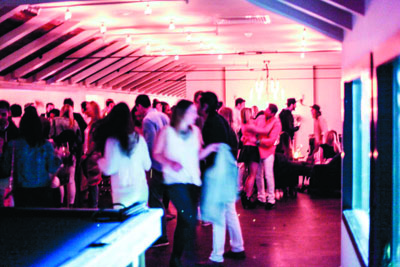 is a classy all-inclusive hideaway with a wall of windows welcoming an ocean view and an outdoor tented deck, a fireplace, game table, DJ station for weekends, and extensive bar. The plan is to continue with music, both DJ and live performances, and to begin serving daily "Afternoon Tea".
In addition to hosting all inclusive memorable Wedding experiences, Gurney's is also a perfect location for group business events.  Gurney's Montauk and Sea Water Spa, with the wide
array of activities, beautiful accommodations, fine dining choices, indoor/outdoor bars and a comfortable fire pit deck; which is a great spot to enjoy a snack, cocktail, or a conversation with friends, is a year round seaside resort providing guests with all they need for a complete, relaxing experience. Check out their web site for further details: http://www.gurneysmontauk.com