Gosman's Seafood Restaurant is located on the water at the edge of the entrance to Montauk Harbor.  Each of the four Gosman dining venues offers spectacular views, specialties, lunch, dinner, and drinks in a casual nautical atmosphere.
Gosman's Dock was founded in 1943 by Robert and Mary Gosman. The Gosmans family bought the properties in 1950 and additional land in 1958.They were fish packers and "fishdrummers" (agents for Fulton Market), and the restaurant started out as a chowder stand, specializing in lobster rolls. Over the years it has evolved as an all inclusive dining and shopping destination: offering a variety of in and outdoor dining choices for families and friends, multiple clothing, toy and gift shops, live music shows on the stage throughout the season, and even an ice cream stand.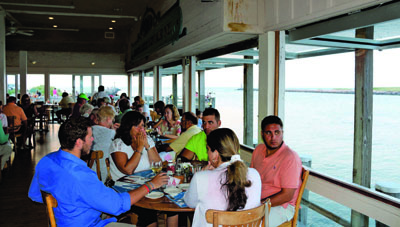 Dining on a Tuesday evening in August and we were surprised how crowed it was. There was a short wait, but it was well worth it. Our waitress Alexandra was pleasant offering us cocktails while we perused the menu and enjoyed our surroundings.  The Restaurant has beautiful overhead fans welcoming the sea breeze through floor to ceiling windows that open to the magnificent sights and sounds of the harbor- including the boats coming and going through the inlet and the call of the gulls serenading diners.  We were even treated to a call on a conch shell by Little Anthony as the Anna Mary lobster boat passed on its way into the harbor.
The menu includes a variety of lobster choices. Lobster Bake for two; 1 ¼, 2 or 3 lb. lobsters, stuffed, steamed or broiled. Stuffed lobster tails with their own seafood stuffing, or a lobster tail Surf and Turf. In addition to lobsters, they have soups and salads, raw clams and oysters, an array of appetizers, a variety of fish, shellfish, fried fish platter, and meat and poultry.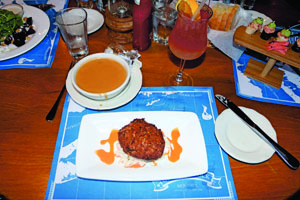 For starters, we chose the Maryland Style Crab Cake with Fennel Slaw, Ancho Chili and Pepper Coulis, which was pan seared and loaded with crab. The flavor, which was further enhanced with the Fennel Slaw, was delicious. The Tuna Tartare Cones made with spicy tuna, avocado and watermelon and served in mini cones were gently spiced as well as refreshing, while the generous portions of Steamers were so sweet and fresh. We tried both the Lobster Bisque; rich and thick, and the Manhattan Clam Chowder; full of dices clams and lots of flavor, and each was delightful. Finally, the Roasted Beet Salad with Goat Cheese, Arugula, hazelnuts and light sherry vinaigrette, is an excellent summer salad. The beets were obviously freshly roasted and the hazelnut flavor and crunch added a little diversity.
Being a lover of lobster tails, and who wouldn't order one at the place who started it all here in Montauk… well, I decided that the Gosmans lobster reputation spoke for itself so I ventured to try a special of the evening; Local Fluke with lentils, coconut curry sauce, and mango and tomato salsa. The Fluke was gently pan seared, and along with the wonderful blend of flavors from the accompaniments it made for a delicious treat.
Another fish we had is the Blackened Yellowfin Tuna Steak; a generous piece of Tuna, tastefully blackened and cooked perfectly to order, accompanied by the great flavor of the Forbidden Rice and unique Soybean Salad. The Block Island Sword Fish was also deliciously prepared. Served with Summer Orzo Salad with almond pesto and lemon vinaigrette; this fish was amazing.
The Fried Fisherman Platter consisting of Flounder, Shrimp, Clam Strips and French Fries was yet another excellent choice. The batter they use on the fried platter was light allowing for the individual flavors of each fish to be enjoyed.
So, we can surmise that for Chef Dave Piccante (who is in his 4th season) preparing delicious fish dishes for Gosman's Restaurant is what he does. And yet that's not all… for the land lover his menu offers steak, chicken and other tasty non-fish options as well.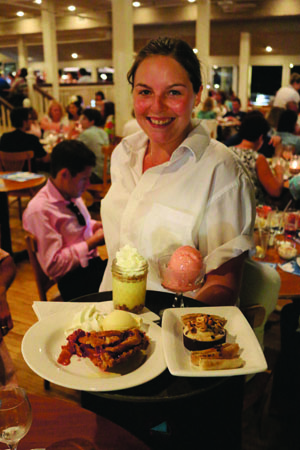 The desserts are also made fresh and were all lovely sweet treats. The Key Lime in a Jar has a light moose-like texture with graham crust, the Raspberry-Peach Seasonal Pie was served warm with ice cream and fresh whipped cream, the Peanut butter Moose served in a dark chocolate crust with slices of banana was a mix between a peanut butter cup and a banana split sundae, and finally the light sweet Watermelon Sorbet was fresh and creamy. Therefore, my advise it to leave room for dessert!
Open for lunch and dinner throughout the season, there's ample parking and walk-ins are always welcome. Gosman's Restaurant is a great place for groups, kids, or even take-out.