Tillies at Gurney's Montauk serves breakfast and lunch daily, Brunch on Sunday, and dinner Wednesday through Sunday. On Wednesday from 5:30-9:30pm come to Tillies for a delicious Lobster Bake. Enjoy a whole lobster and bountiful buffet featuring a raw bar, grilled fish, smoked ribs, brisket, and chicken, along with salads, corn on the cob, and farm to grill vegetables.
We arrived one morning and chose to try the breakfast bar, complete with an omelet station, fresh fruit and baked goods, waffles, breakfast meats, and cereals. Everything was fresh and delicious, and your omelet is made to order with eggs or egg whites and a variety of ingredients for customizing to your taste. In addition, there is a full breakfast menu available daily. The room is comfortable and bright with a gorgeous view of the fire pit deck and the ocean below.
For lunch, you can choose to eat inside or outside on the deck, both with a magnificent view of the ocean. We enjoyed our lunch on the deck, under a beautiful umbrella with waves of the vast Atlantic Ocean crashing below us, the sounds of families and friends enjoying all of the amenities that the Gurney's Beach Club offers, and of course the warm Montauk sun and cool ocean breeze.
Our servers Fredrick and Sonya were pleasant and worked well as a team meeting our dining needs. The menu is comprised of items from the raw bar, a complete list of light appetizers and salads, a lovely array of sandwiches and entrees, as well as a few sides and desserts. As noted on the menu, many of the dishes are gluten free and vegetarian options are also available.
From the Raw Bar, we had the Seafood Tower consisting of large plump shrimps, oysters and clams perched upon an ice filled metal tower; cold, fresh, and a delicious way to start our mid-afternoon meal. Uniquely, the cocktail sauce had the horseradish on the side so you can add as much as you like to satisfy your individual taste. We also enjoyed the Gazpacho Andalusia made from fresh pressed vegetables and tomatoes. It arrived at our table in a small carafe and expertly poured into a bowl with citrus garlic olive oil and avocado. Chilled and intensely fresh, the flavors were bursting onto my taste buds with each spoonful.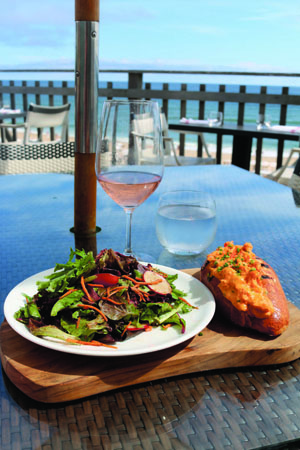 Enjoying the afternoon without any pressure to move along, we sat and enjoyed a glass of Rose before the rest of our meal arrived. Because it was highly recommended by the manager Helen, we ordered the warm, spicy Lobster Roll with sriracha mayo, although there is also a traditional option available. It was served on a grilled potato roll and was absolutely spicy, fresh, and delicious. We also chose the intriguing Southern Chicken Sandwich prepared with fried chicken breast, and black pepper honey on a biscuit. The chicken was coated in a very light batter and fried gently so it was moist, and topped with the honey sauce and served on the toasted biscuit this sandwich was amazing. Each sandwich is served with your choice of chips, French fries, or a side salad.
Tillies dinner menu consists of some of the lunch items; however it also includes entrees ranging from half of a Roasted Chicken, to a daily Whole Fish a la Plancha, Salmon, Rib-Eye, and Cauliflower Royale, to a Steamed 2 lb. Lobster. Each sounds delicious, and if lunch is any indication, I'm confident that the dinners are wonderful as well.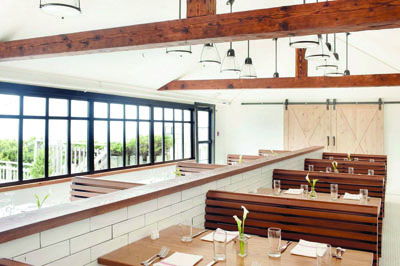 Reservations are recommended; call 631-668-2345. For further information go to- http://www.ldvhospitality.com/brands/gurneys-montauk