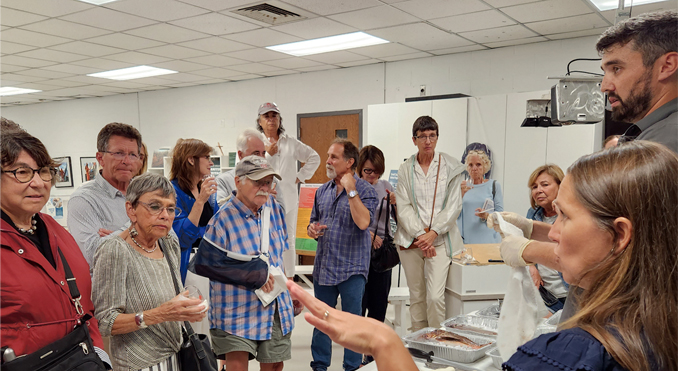 by Debbie Tuma
Adults and kids can learn all about seafood at the Suffolk County Marine Environmental Learning Center, located on the water in Southold, on the North Fork. They held a fascinating and very tasty event in August, benefiting two non-profit organizations—Cornell Cooperative Extension of Suffolk's "Choose Local F.I.S.H." program, which focuses on the economic, environmental, and health benefits of consuming locally harvested seafood, and "Slow Food East End," a chapter of a global, grassroots organization promoting the preservation of local food cultures and traditions.
In one room, people were lining up to sample four varieties of locally harvested oysters: Davy Jones Shellfish, Hampton Oyster Company, Montauk Pearl Oysters, and Peconic Gold Oysters. Complete with cocktail sauce and lemons. At another table, Alex Mercado, of Cornell Cooperative Extension, was teaching people how to fillet fish, as he had all kinds of whole local fish lined up.
There were black sea bass, sea robbins, squid, porgies, bluefish, and flounders.
Many people were flocking to another room to try some of this prepared seafood which included locally sourced bluefish sliders and calamari salad, along with a pasta dish.  The fresh local fish tastings were from Lombardi's Love Lane Market in Mattituck. Lauren Lombardi is a long-time supporter and former member of Slow Food East End. Guests were also sampling a variety of local wines. This year is the 50th anniversary of commercial winery production.
Along the long hallway of the Marine Learning Center, was a table set up with beautiful driftwood wall hangings and sculptures, as well as nautical photographs, jewelry and artwork with shells and other beach stuff. The artist, Lisl Reuschle, calls her company "Adrift." She grew up around her family's marina, Port of Egypt in Southold. It was founded by her grandfather, over six decades ago.
"I love this area, and growing up by the sea inspired me to create this artwork," said Reuschle, whose husband is a marine mechanic. "I spend many hours walking the beaches to find these treasures of the sea—driftwood, shells, beach glass, to incorporate into my work."
She also works on the water, at Peeko Oysters and Brick Cove Marina in Southold. Throughout the night, guests toured the Marine Enviromental Center's oyster and scallop hatcheries, and also took lessons in oyster shucking.
"There's a huge array of local fish and indigenous healthy seafood that Long Islanders can incorporate into their diets," one of the fishery and aquaculture specialists told the guests.
At this fun and educational event, people were also sampling some delicious homemade bread from a table next to Nancy DePas Reinertsen, of the Slow Food East End group. She is involved in a program where people make four loaves of this bread and donate of them to charity.
Also at his event, there were delicious seafood recipes and information on how you can get creative in the kitchen with local fish. The "Choose Local F.I.S.H." has aligned with Culinary Nutritionist Stefanie Sacks, author of "What the Fork Are you Eating," to share these recipes and teach people how to use the abundance of the sea in a healthy way. She even has "How To" videos including Bluefish Burgers, Grilled Coconut Curry Monkfish, and Reinvented "Lobster" Roll.
For more information on this and Cornell Cooperative Extension of Suffolk County, contact Kristin Gerbino at kk334@cornell.edu (631)-786-276