by Sue Giustino
Each season, Montauk Restaurants strive to create a lasing reputation of being a venue with a welcoming atmosphere, good drinks, and of course a menu that provides their customers with consistently great food. Chef Ronnie, of Muse @the End, continues to construct an eclectic menu which is pleasing to a variety of palates -including many GF options. Once again this season, he has been able to achieve this status, while also making some creative menu adjustments.
Arriving on a Tuesday evening, the restaurant was bustling with diners. Both the spacious and inviting bar area with a large uniquely crafted bar and spacious hi-tops lining the opposite wall, as well as the warm and welcoming low-lit dining room were almost filled to capacity.
We were seated at a cozy table by the front window by the Manager Mario. Our friendly waitress Christina arrived and we ordered a few of their signature cocktails. White Peach Tea Hampton Martini-with Grey Goose, a tequila Negroni with sweet vermouth and Campari, a Bombay Saphire Negroni with sweet vermouth and bitters, and a Grapefruit Martini. Each one perfectly balanced and refreshing. While sipping our drinks we listened to the sounds of Manny performing around the corner in the bar. Chrisina arrived to take our orders and she presented Bruschetta for the table- toasted baguette topped with fresh diced tomato, basil and a balsamic drizzle. This is a lovely change from their warm rolls and the trio of spreads; sundried tomato basil pesto, soft butter, and seasoned olive oil- which I always enjoyed as well.
Another noteworthy addition is an option for ordering some of the menu items with family style portions. This is ideal for groups who like sharing and having enough for all to enjoy.
Appetizers which have stood the test of time at Muse include Lobster Mac-N-Cheese, Cauliflower Tempura Yuzu Curry Emulsion, and the Salmon Tartare Wonton Tacos, and my all-time favorite, Prince Edward Island Mussels a La Muse prepared with Prosecco butter sauce, grilled artichoke hearts, cured tomatoes and gigantic beans.  On our visit, we were treated to fresh sweet tender and cheesy Oysters Rockefeller, with herb butter, spinach, bacon and shaved parmesan.
A special of the evening was next, Calamari 2 Ways. The first was crispy Fried Calamari served on a bed of tomato sauce and a swirl of creamy aioli. The other way, was a tomato-based Risotto Stuffed Calamari that is gently broiled- both were tasty and tender.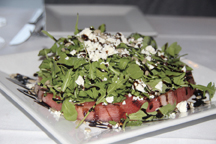 Of the four salads on the menu, we had two fresh summer salad choices. The Watermelon Salad is served on a pretty white plate large enough to accommodate a large round slice of the sweet melon topped with a lovely blend of flavors and textures. Sprinkled with sunflower seeds for a little crunch, and covered with peppery arugula leaves, soft feta chunks, and drizzled with aged balsamic- a colorful creative variation of the popular salad. Almost too pretty to eat, the next dish came with fresh slices of tomato placed on a swish of olive oil,
dotted with dollops of pesto, and topped with a creamy house made burrata cheese, all adorned with a bit of arugula and a drizzle of balsamic- Burrata at its finest.  With the addition of the family style portions, many of the appetizers could be great entrees as well.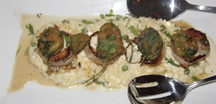 Along with a few changes, many of the favorite Entrees remain season after season. One such item is the tender and daintily Seared Giant Sea Scallops. Sitting atop a pillow of creamy peas risotto with a drizzle of lemon thyme prosecco beurre blanc, each scallop is uniquely garnished with a crispy spinach chip.
The presentation was as delightful as the fresh scallop forward flavor.  The perfectly Grilled to order 14oz New York Strip Steak with Demi-glace, al dente asparagus, the aromatic herbal blend of the chimichurri sauce on top, along with a side of home-style mash potatoes- created a scrumptious steak dish.   Our final entrée was a special of the evening. Delicately broiled Fluke perched on a bed of tender carrots, brussel sprouts, and edamame with a drizzle of vegetable puree was fresh, clean, and beautifully fork tender.
Dessert options change periodically, so be sure to inquire. We indulged in the Banana Bread Pudding, Crème Brule, and Cheesecake Churros. The Banana flavor of the moist yet dense Bread Pudding was accented perfectly by the scoop of vanilla ice cream and sweet caramel sauce spooned on top. Wonderfully rich and creamy with a perfectly flame crisped top layer, the Crème Brule was a table favorite. The Cheesecake Churros with a crisp cinnamon shell was adorned with a raspberry swirl and fresh dollops of whipped cream. Each one offered delicious flavors with just enough sweet to satisfy the palate.
Muse @the End is located at 41 S Euclid Avenue. They are open 7 days from 5pm- 10pm offering Happy Hour daily from 3-6pm, bottle wine specials wine every Wednesday and Sunday (except Holidays), and beginning 9/5/23, a new Price Fix Dinner Sunday – Thursday, 5-6:30pm. For further information including catering for your wedding or special occasion party, and for their entertainment schedule, call 631-238-5937.