by Debra Rose
20,000 Taco Shells Around the Sea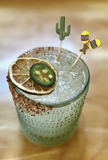 What we know about real estate is usually summed up in those three magical words: location, location, location.  We also know proximity to water is ingrained in our psyche, one of the most sought-after aspects of a property.  Montauk checks each box, surrounded by water at every turn, the crown jewel of the East End.
When a business can boast about where they are located, quality and the experience does not always measure up.  We will trade mediocre food for the killer view or ease at which to stroll to an establishment. For over fifteen years the Gig Shack has been operating under the premise that regardless of where you are you must create a magnetic atmosphere and serve exceptional, serious fare.  Casually.
The Gig Shack happens to be located right in downtown Montauk, walking distance to everything including the Atlantic Ocean.  A spacious outdoor patio lends itself to sunny lunches, après beach meals and lively dinners, especially when there is outdoor live music which occurs nightly over the summer.  Inside is a cozy bar and subtly chic décor that gets a quiet revamp each year.  Attention to detail in the banquets, lighting and music mirrors the meticulous cuisine and fresh ingredients in the kitchen.
Some say the charm of The Gig Shack is how it hides in plain sight; a designer outfit without the labels, the world-renowned film maker that's mistaken for a local tradesman.  The quality and integrity of the meal is five star and will arrive to your table in a mix of rustic dishware with varied designs and shapes.  There is no need for pretense as the food speaks for itself.
Creating a microcosm of Montauk is not an easy accomplishment, as the regular mix of characters at 668 range from locals to weekenders, musicians, public figures, surfers, artists, celebrities, and families on vacation.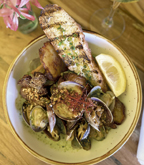 They are there for the vibe as much as the food, both equally welcoming and captivating.
Known for their International Surf Cuisine, The Shack is synonymous with their Trademark Montacos, served with an addictive mix of fresh tile fish, cool homemade coleslaw topped with fresh herbs, and mango salsa.  The spicy Taquito of finely diced tuna tartare, plump avocado, and microgreens is a staple appetizer, as well as the fleshy mussels luxuriating in either white wine and cilantro or in a coconut curry broth à la South East Asia. 
Over the course of the summer season, The Gig Shack serves over 20,000 Taquitos and Montacos in case you were wondering about their popularity.
We love sharing the classic Caesar, a unique twist on the standard with fresh chopped dill, seared lemons and croutons made from house baked croissants.  The lunchtime Lobster sliders and butter poached Lobster Roll of local (and never frozen) lobster meat are in such high demand they nearly sell out daily.

Having traveled all over the world, Chef, and owner Gray Gardell brings his knowledge and culinary journey through Sri Lanka, Morocco, Thailand, New Zealand, Argentina, Italy, St. Barth, and Iceland to name a few, back to the menu.  Choose from melting off the bone Baby Back Ribs with iron-skillet baked to order cornbread, a Panko Crusted Local Fluke with Orzo enveloped in lemon-mascarpone, homemade Fettuccini studded with shrimp and farm stand tomatoes, or indulge in a juicy Pat la Freda Burger with the works.  Your friend that cannot decide what to have is usually thrilled with the robust Pan Seared Crispy Chicken and comfy smashed potatoes, and the vegetarian can dive into the sweet and salty, labor-intensive Spanakopita of Phyllo and Feta, paired with a generous scoop of oil-drizzled hummus and middle eastern couscous.
Not that hungry?  You will be when colorful, carefully plated meals whiz by your table, eagerly devoured by the guests around you.  Food here tastes like it came out of the kitchen at a dinner party, made with love and the finest ingredients.  The delight of 668 cuisine is the simultaneous achievement of consistency and true-to-their roots fare.
The Shack is also a spot where you do not skip dessert.  Ever.  Even if you do not "eat sweets," or are not a "pie or cake person." House made Key Lime Pie, caramelized Cheesecake with a charred crust, or a buttery cherry tart with fruit from the local garden and topped with Gelato baked by mom Tracey Gardell will unravel your theory.
The Gig Shack is open daily for lunch and dinner, with live music most evenings and weekend afternoons.  An easy spot for a hand-crafted cocktail, glass of rosé, a quick bite or a post-surf meal, The Gig Shack finds the sweet spot of stellar cuisine in the heart of downtown Montauk.
https://www.668thegigshack.com/