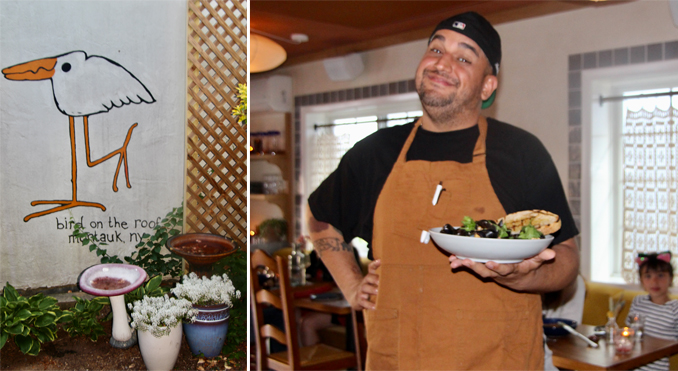 By Sue Giustinio – Photos by Lorraine Salvato
For many, many years Bird on the Roof was one of Montauk's most well-known and popular breakfast restaurants. As a young child, I always looked forward to our family day trips to Montauk. Occasionally, there would be the excitement of an overnight in this beautiful beach town. That also meant we would enjoy breakfast at 'The Bird'!  In those days, my dad was a NYC Firefighter and one of his friends happened to be the owner. As my siblings and I went on to have our own families, Bird on the Roof continued to be one of our favorite breakfast spot whenever we were in town. The owner eventually handed the thriving business over to his son and family. After so many decades, sadly, it was during COVID that the family made the decision to finally retire and close the restaurant. The entire town felt the loss.
Fortunately, in 2022, Leo Daunte, of Daunts Albatross Motel, decided to re-open the beloved 40-year-old Montauk 'Bird'. Last season they served breakfast and lunch. This season they've done further renovating, opened a comfortable bar area and extended the hours to include brunch and dinner menus.
As you step through the front entrance (where the shop once was) there is an intimate bar with several tables and stylish tiled high-tops. You can choose to enjoy a cocktail and/or a meal in this welcoming space. If you prefer, there are many other seating options throughout the newly renovated restaurant. Among your choices are the charming main dining room with table or booth seats, the front enclosed patio, or the outside back garden area.
I asked Zoe, the manager, about the interesting furniture and she shared some details with me regarding the overall décor. She included that while planning the renovations they decided to engage the same design firm they had collaborated with on the renovation and redesign of Daunt's Albatross, Brooklyn-based design firm Home Studio.
Their intent was "-to celebrate the legacy of a 40-year-old adored Montauk establishment, imbuing a familial sense of warmth and hospitality threaded throughout the experience and the design. The aim of the space is to capture the spirit of old Montauk, providing a welcoming home-away-from-home for both visitors and locals to gather at any hour and any season."
Although it looks very different on the inside, if you remember the original 'Bird on the Roof', you can see that the bones are the same. The warm décor of the main room, with cozy oversized bench cushions and an array of eclectic wooden chairs, simple lace curtains, gentle blue fabric wall hangings and simple hanging light fixtures create the perfect understated dining ambiance.
"The design reflects the simple yet considered approach presented in Home's work at Daunt's, including an essential elemental use of materiality and detailing combined with the warmth of natural materials and soft lighting.  The muted color palette is a continuation of that used throughout the hotel and includes shades that mimic the Montauk cliffs and surrounding coastal environment – a spectrum of whites, warm grays, browns, faded yellows, rusts and ocean blues. 
Relaxed and calming materials such as reclaimed timber, glazed ceramic tile, raw concrete and white-washed plaster combined with table lamps, natural textiles and colorful tableware create a feeling of charm and domestic comfort throughout. The restaurant includes a deliberately minimal approach to furniture, lighting and decor, which allows the materiality to shine on its own. "
Whether you're enjoying brunch, happy hour, weekend dinner, or the mid-week small plates menu, you are sure to enjoy the lovely selection of items from which to choose.  For our visit, we started at the bar with Malcom mixing up several of the house specialty cocktails. Each one offers a main liquor blended with varying fresh fruit, citrus and/or herbal accents. For light fresh flavors, try the Hallie Parker with Prosecco, strawberry, lemon, and St. Germain, the Island in the Sun with a blend of cucumber, lemon and basil with Vodka, or the Gin Garden Party with snap pea. Want a bit more pizzaz? Then the perfect balance of jalapeno spice and sweet hibiscus tequila in the Spicy Bird, or the popular zesty Pineapple Express with coconut washed bourbon may be the way to go.  However, although we didn't try them, the Too Easy with rum and coconut, or the signature Espresso Martini 'The Beginning of the End' also looked wonderfully tasty. It's obvious that Sophia, the bar manager, has a flair for mixology.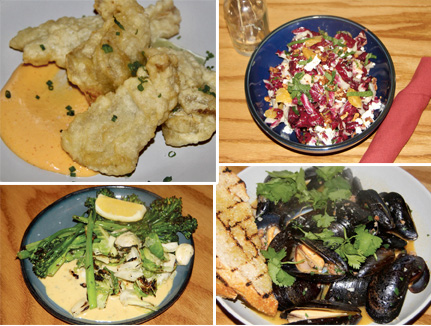 After being seated, we asked our delightful waitress, Bree, if there were any popular main dishes, or those she might recommend.  She discussed a few, and told us about the specials for the evening, but then added that a 'fan favorite' was the Tempura Oyster Mushrooms. She shared with us how much her grandparents love them, ordering them every time they visit. That being said, I'm not a mushroom eater so I wouldn't order them. However, Bree and her grandparents were right! My other three dining companions absolutely loved the mushrooms.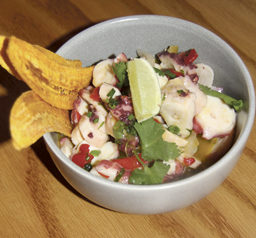 They described them as light, fresh and accented perfectly with the spicy/sweet and deeply savory gochujang sauce. Not to be outdone, the other appetizers were also expertly prepared by Executive Chef- Marcos Martinez-Perez. The Plato Del Pulpo is a perfect summer dish. Tender and flavorful octopus is served with garlic aioli and crispy plantain chips. The Cantina Mussels is another excellent option from the sea. A light accent of flavor from chorizo sausage blended with zesty cilantro, butter and garlic, creates a well-balanced mouthwatering broth for the mussels as well as for dipping the accompanying crusty grilled bread. Another dish with a unique and delicious sauce is the Charred Veggies & Tonnato. Charred just al dente, the broccolini and brussel sprouts acquire a light seared flavor, which along with the tonnato sauce brings out the freshness of the vegetables while raising them to another level. Finally, and one of my favorites, is the one-of-a-kind Radicchio Leaves with Citrus salad. Mixed with roasted walnuts, mint, feta, orange segments, and a citrus vinaigrette – radicchio never tasted so good.
Sometimes less is more, as proven by the quality and variety of offerings on the menu, including; fish, pasta, beef, chicken, and even tofu. Fluke was the evening's Market Fish, and was prepared with creamy polenta, shiitakes, dashi, shishito relish, and topped with dainty fried leeks adding a crispy topping to the gentle creamy texture of the dish. The unexpected spice was also a nice addition to the gentleness of the fluke. The evening special was something that I love to order, as long as it's prepared well. A generously sized pan-seared Crabcake full of sweet, fresh crab was served atop an amazing rémoulade with a side of microgreens. This dish was truly outstanding.  The 'melt-in-your-mouth' Homemade Gnocchi blended with Genovese pesto, parmesan, and sundried tomatoes was bursting with bold fresh flavor and was certainly a table favorite.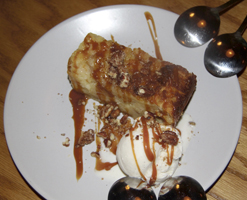 There's always room for dessert, right? So, Marco decided, after all our food, we must have a bit of room for his signature decadent creation: Coconut Bread Pudding – warm, moist, with candied pecans, and vanilla ice cream, all topped with a caramel drizzle. Delicious! Be sure to check with your server, as desert options may vary.
This is Chef Marcos' second season here at the Bird. Moving here from Rincon, Puerto Rico in 2013, he's worked in kitchens from Ocean Beach Fire Island, throughout the east end, and here in Montauk since 2019. He told us that their goal for Bird on the Roof is 'elevated fresh cooking'. "We are a passionate kitchen," he commented. Well, their passion translates to delicious, fresh, clean dishes that leave you wanting to return for more.
There are a variety of times to dine: for Brunch: Mon-Fri 8-1, Sat/Sun 8-2, Small Plates menu Mon-Thur nights and Dinner Fri-Sun from 5:30-9:30. The Bar is open 7 nights a week 5-10pm with small plate menu available Mon-Thurs 5:30-9:30. In addition, enjoy Happy Hour Specials: $5 Select beer, $10 select wines, $12 daily specialty cocktail and all house liquor (as with the specialty cocktails, at times, the beer and wine selection may also rotate).
Quality service, comfortable welcoming ambiance, impressive presentation of food and beverages, and unique blends of savory flavors- that is Bird on the Roof.
"Celebrating the beloved name and iconic a-frame building, The Bird represents a joyous reincarnation of a neighborhood joint. Lively, convivial and welcoming, the restaurant offers a relaxed yet elevated atmosphere that seamlessly transitions from casual breakfasts to celebratory dinners and after dinner drinks. Open year round and transforming with the seasons, it will proudly continue its legacy as a community staple – and true Montauk landmark."
Leo Daunt, and his sister/manager-Zoe Daunt, along with their dedicated staff have created a special new Montauk dining space while being true to our community and its past. The Bird truly is back! Different yes, but still delicious and still sporting the beautiful iconic white bird on the roof.
47 S Elmwood Ave, Montauk, NY      https://www.birdontheroof.com/