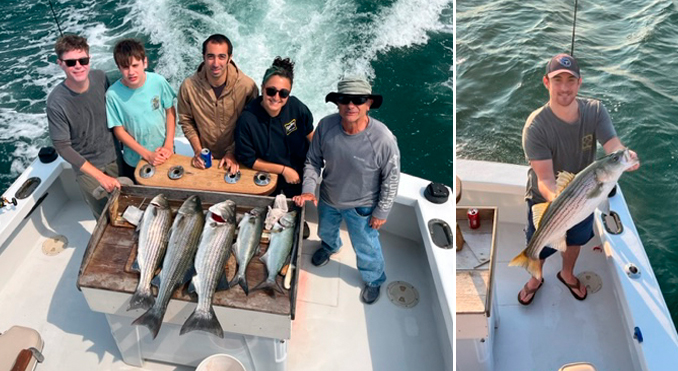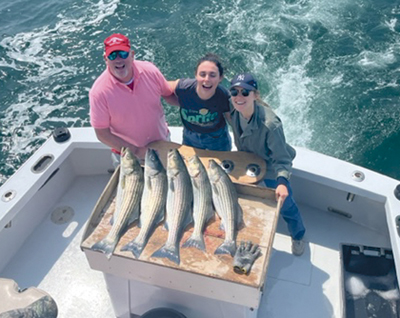 A Banner Season so far! The Striped Bass & Bluefish have been going crazy since May, and haven't shown signs of letting up yet. Hoards, and I mean Hoards, of Blitzing Blues & Bass have been busting on the surface bending rods for anglers all the way from the Porgy Lump west to Hither hills and beyond. We are talking fall like Blitzing conditions in June!! It's absolutely incredible. Diamond Jigs, Surface plugs, Smiling Bill jigs with a pork rind casting out, just about anything. We can thank all this action to the sheer numbers of Sand eels coming through our area. This massive amount of bait is holding these fish along with the moderate temperatures right in our backyard.
Long term weather forecast called for a cooler than normal summer, obviously lucky for us Global warming has taken a time out! LOL!
                      Marine management scientists are saying the Striped Bass are in an emergency status, I think the scientists need to come out from their offices and get out on a boat to see what's really going on. The big question is, how do they access the size of the biomass? You can't jump in the water and count each individual Striped Bass, just as you can't walk through the woods and count each individual White Tail Deer (they'd be long gone before you even see them). So Marine Management has some formula they use that is obviously not working. As of today June 21st the new size slot limit for Striped Bass is 28-31 inches! This judgement has been pushed through by the recreational Striped Bass fisherman that are advocating that ALL Striped Bass must be released.
                           This ruling is going to decimate the for hire industry. Once again extremists, with only their personal agenda in mind is going to hurt the hard working for hire community. To voice your concerns you can contact: Emilie Franke at
efranke@asmfc.org
or call 703-842-0740.
                            The Bag limit remains the same at 1 fish per angler. Also Black Sea Bass opens on June 23rd. Size limit is now 16.5 inches. 3 fish per angler from June 23rd through August 31st. Then from September 1st through December 31st the bag limit per angler goes to 6 per angler. Regulations are necessary nowadays due to the current population, but accurate means of gathering information for those regulations is most important to the livelihood of professional fishermen like myself, that have done nothing else for a living their entire lives.
                              Enjoy the Bonanza while it's going on, remember always safety first, and please voice your opinions because it does matter!!
        ~ Tight Lines, Captain Skip