Photos by Richard Lewin Professional Photography (soniboy@aol.com)
Good day and welcome to this month's edition of the Montauk Fire Department Corner. Thank you again to the Montauk Sun for giving us this opportunity to let the folks in Montauk know what's going on in their Fire Department. I hope everyone had a safe and fun Memorial Day holiday, and I'm sure everyone is geared up and ready for the next few busy months. As our population increases dramatically during the summer season, please remember to be extra diligent when driving. Please, aways pull over for emergency vehicles in a safe and slow manner. It helps us and it will help keep you safe.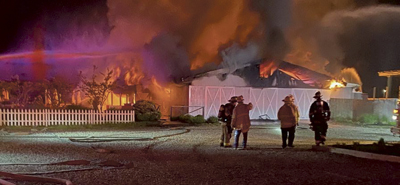 On May 26th the Montauk Fire Department responded to a structure fire at the former Rick's Crabby Cowboy Café on East Lake Drive. Upon arrival, first responders found the structure was fully involved. Our own Department responded with manpower, and eight pieces of apparatus to fight the blaze. Amagansett Fire Department responded to assist at the scene. East Hampton Fire Department responded to our headquarters to stand by, and the Springs Fire Department responded to East Hampton to cover there. The fire was fought for several hours and rekindled several times during the day. Thank you to our Officers, men and women, who came out to fight the fire, also to our Ladies Auxiliary and members of the Amagansett, East Hampton and Springs Fire Departments that assisted us. Most of all, I am happy to report that no one was hurt.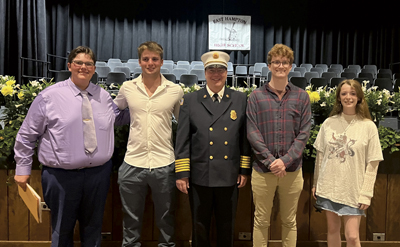 On June 1st I had the pleasure to award four (4) deserving students with Montauk Fire Department Scholarships. Each student will receive $3,000.00 a year for their four years in college. This year's winners are: Hank Zebrowski Scholarship – Mr. Colin Tyrrel; John Mulligan Scholarship – Ms. Sofia Nagle; Skip Cannon Scholarship – Mr. William Raynor; Don Truesdale Scholarship – Mr. Jack Dickinson.
Congratulations to all of you, and the best of luck to all of this year's graduates in the future.
The Mighty Montauk Triathlon was held on Saturday, June 10th. Once again, our EMS and Fire Police personnel assisted with emergency medical standby and traffic control. The race was a success and seemed like the number of racers was back up to pre-covid levels. Thank you to Company No. 4 and Company No. 6 for helping out.
Company No. 6, the 2022 Montauk Fire Department Company of the Year, celebrated with a dinner at Gosman's restaurant on May 18th. Once again thank you to the members of Company No. 6 for all you do.
That's it for this month's edition of the Montauk Fire Department Corner. Please enjoy a safe and fun Fourth of July holiday. I look forward to bringing you more information in the weeks to come.
Ken Glogg, Chief, Montauk Fire Departmet
https://www.montaukfiredistrict.org