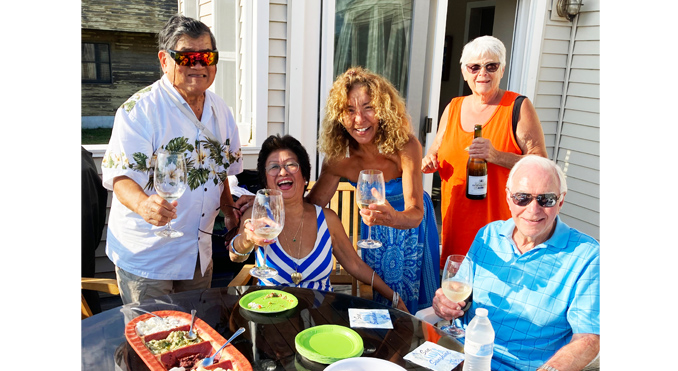 by Evelyn J. Mocbeichel
It's been another busy, fun packed summer in Montauk, whether it was days at the beach swimming, surfing, boating, visiting the Lighthouse or just soaking up the sun. There was fishing, golf, cycling, horseback riding and long walks and campfires on the beach.
As far as planned activities by various venues, there was always something exciting going on from the beginning of May clear through Labor Day. There was the Montauk Music Festival, Mercury Grand Slam Fishing Tournament, Rock the Lighthouse, Music for Montauk Summer Series 2022, Gosman's Dock Sunday Concerts, Chamber of Commerce Monday Concerts on the Green, charity events, triathlons, runs and a long list of wonderful, varied lectures and musical entertainment several times a week at the Montauk Library to mention only a small smattering of events. Of course, going to any of these events was more fun when accompanied by friends to enjoy them, too. The activity list was extensive and every month the Montauk Sun featured what was coming up next besides the events I just mentioned above.
In addition to these Montauk pastimes are places to dine and explore new restaurants that joined the Montauk community. However, in between dining out, we find getting together with good friends was always welcomed. Sitting out on the deck enjoying a barbecue, including fresh fish caught during that day's excursion tastes even better outdoors on the grill. The evenings are relaxed, the conversation varied and the laughs and good times all added to another delightful Montauk summer. Here's a toast to good times, good friends and another wonderful Montauk Summer!
However, here is a reminder though for readers. Rest up there are still many exciting activities planned in September through late fall and into December both in Montauk and on the East End. There is the Montauk Seafood Festival on September 10 and 11 and the Montauk Chamber of Commerce's 41st Annual Fall Family Festival on October 8 and 9. Pick up the monthly Montauk Sun for dates and additional calendar of events.