Animals of the Month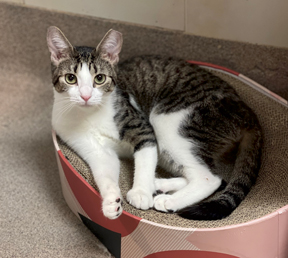 Merry: Ten-month-old Merry is one of our most recent arrivals after being rescued from a hoarding situation on Long Island. She is as friendly and affectionate as they come, and boy does she love attention. She will paw at you in the cutest way to get you to notice her. She has quickly won over the ARF staff who describe her as the "best cat" and she will be a great companion to the lucky person who adopts her.
Amber: One-year-old Amber recently came to ARF with the help of our partner, Fostering Foster Animal Rescue and support from the Irving and Phyllis Millstein Foundation for Animal Welfare. Amber is a good-natured, calm pup who loves a good snuggle and to go for walks around town to make new friends. This sweet girl is currently being treated for heartworm and she will soon be free and clear. We are hoping to find her a local foster home or adopter while she undergoes her treatments.
For more information contact adoptions@arfhamptons.org or call 631-537-0400 x203.
All ARF animals are vet checked, spayed/neutered, microchipped and up to date on all vaccines.
To view all of our adoptable animals, visit: www.arfhamptons.org
NYS Registered Shelter/Rescue #RR035
ARF's Stroll to the Sea Dog Walk: Saturday, October 8
ARF's annual Stroll to the Sea Dog Walk will take place on Saturday, October 8, presented by the One Nine Three Group! Bring your furry friends and join us for a scenic two-mile walk to the ocean and back at Mulford Farm, 10 James Lane in East Hampton. Enjoy fun contests, prizes, food and live music while raising funds to help the cats and dogs of ARF. Gates open at 9 AM, walk starts at 10AM. Or walk anywhere and participate virtually! Registration starts at $35 at: https://give.arfhamptons.org/dogwalk.
Rain Date: Sunday, October 9