by Debbie Tuma
My author friend Eileen and I decided to take a combination work and fun trip to attend a weekend-long conference for creative non-fiction writers in Lancaster, Pennsylvania. "HippoCamp," as it is called, was organized by Hippocampus Magazine, based in Lancaster, and it was held at the Lancaster Marriott Hotel & Convention Center at Penn Square. The strange name of this conference is derived from "hippocampus," the memory part of the brain.
It seemed strange to leave the Hamptons on a hot day in August, but we knew the 6-hour road trip would be pretty, once we drove off Long Island, and out into the sparser and greener farm country of Pennsylvania.. As we arrived in Lancaster, I was surprised and happy to see what a hip and artsy small city it is, with winding streets of old buildings, quaint neighborhoods, and an amazing selection of ethnic restaurants—a real "foodie town," with several breweries. It even has a big arts district, with many trendy galleries. Lancaster, designated as a market town in 1730, has been rated "A top U.S. city to visit" by Forbes.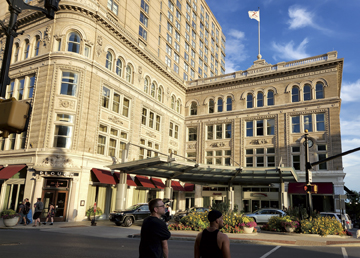 We pulled into the parking garage of the Lancaster Marriott Hotel & Convention Center at Penn Square,  within walking distance to great restaurants, galleries, and the famous Central Market across the street, which is the oldest continuously running public farmers market in the country, with 60 vendors. Part of this historic Marriott Hotel, the architectural gem of a facade, is the former Watt & Shand department store. The hotel has 416 guest rooms and suites, and is luxurious inside, with a modern lobby lounge, and a baby grand piano, where music was being played. The hotel staff was friendly and helpful, as we checked into our eighth floor rooms with views of downtown and farms beyond. The Lancasterh Marriott offers three restaurants,–the Two Kings for breakfast, the Plough for lunch and dinner, and the Exchange Rooftop Bar & Lounge for drinks and light fare.
On the Friday afternoon when we arrived, the HippoCamp writers were congregating for a meet-up Happy Hour at a gigantic, three-story Irish bar and nightclub with pub food and live music, called "Tellus 360," a few blocks away. It was fun to mingle with other writers and authors from all over the country.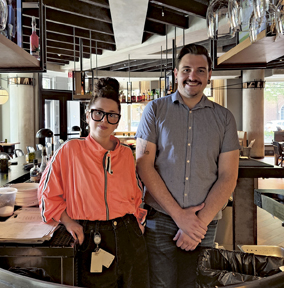 Hungry from the long trip, Eileen and I wandered down the cobblestone streets until we saw Barberet Bistro & Bakery on King Street, and headed in for some fine French cuisine. We walked through the artistic bakery, and went behind to the spacious, modern restaurant and bar. Eileen tried the Beef Bourguignon and I had the mussels and Pommes Frites, both to our liking.
The next day, Saturday, and also Sunday, we enjoyed some of the creative and tasty meals at the Marriott Hotel's Plough Restaurant, prepared by Executive Chef Ryan McQuillan and Executive Sous Chef Robert Courtney. For brunch we tried the Short Rib Loco Moco, with fried egg, fried rice, and maple soy, and we also sampled the Seasonal Frittata–both delicious. At night we came in after all our workshops, for some coffee, and the amazing Chocolate Chip Banana Bread and Summer Shortcake,  all served by our friendly waitress, named Comet!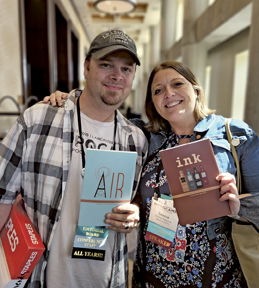 Our daily writing workshops took place on the third floor of the Marriott Hotel, where there were many large conference rooms with rows of chair seating. The HippoCamp Writers Conference in Creative Non-Fiction takes place each year, and was started in 2015 by Donna Talarico, the founder of Hippocampus Magazine, based in Lancaster, and her husband, Kevin Beerman, who is the operations manager.  They have speakers in all areas of writing, editing and publishing, from around the country. One of these speakers, Lawrence Knorr, of Sunbury Press, talked about the myths of the publishing industry. Another speaker, Janna Maron, of "More to the Story," gave tips on how to work with an editor. There was also a table outside the classrooms where authors were selling their non-fiction books.
The speakers and attendees had time to network at the big buffet lunches each day in the adjacent Marriott Convention Center. At night, we were free to roam around the city at unique places like the Lancaster Dispensing Company, a fun and affordable pub with tasty light fare, on the site of the Grape Tavern from 1893. We also checked out "Bube's Brewery" in nearby Mount Joy, an offbeat brewery in a 19th century building with an art gallery, a pub menu, karaoke, and catacombs in the basement!
When the conference ended, Eileen and I decided to tour the Amish countryside before going home. On our way to the famous town of Intercourse, 10 miles east of Lancaster City on Route 340, we saw beautiful green farmlands, cornfields, and silos. Driving through the tiny town of Bird in Hand, we saw horse driven buggy rides for tourists, and we passed Amish houses where women wore white bonnets and long black skirts.
We arrived at the Kitchen Kettle Village, a must-see complex of 40 unique shops, restaurants and lodging accommodations in Intercourse. We were greeted by co-owner Joanne Ladley, and owner of the Inn at Kitchen Kettle Village. Her parents, Bob and Pat Burnley, started what was to become Kitchen Kettle Village, in 1954, making jams and jellies with kettles and gas burners in their two-car garage. This small business soon became a tourist attraction in itself, and started to expand to an entire village, which even includes their houses. Their three children all grew up there and stayed in the family business until today.
Today, the Burnley's recipes continue to be a tourist attraction in the Jam & Relish Kitchen, located in the heart of the village.  You can watch the Amish women and other staff members make over 90 flavors of jams, relishes, salsas and pickles, and then sample them. Plus you can buy all kinds of great food products in this large shop. We also loved a store called "Village Hand Made," with the most amazing quilts, pillows, and hand-crafted items made by the Amish women. And, like other tourists, we had to bring home an "I Love Intercourse" T-shirt from a fun hippie store called "Good Vibes."
We stopped for lunch at the "Harvest Cafe," we bought some goodies from the "Aged and Cured Cheese & Meat Shop," and tried some homemade ice cream, pretzels, and kettle corn at some little stands along our route. We browsed through Mennonite and other artwork at Dutchland Galleries, and outdoor art at Heritage Gallery.
There are numerous great places to stay at Kitchen Kettle Village, including rooms and cottages, and Joanne Ladley put us up in a charming and beautifully furnished two-bedroom cottage with a fireplace and full service kitchen and living room.
She recommended trying one of the Amish buffet restaurants in Intercourse, known for their huge variety of foods. We chose Dienner's Country Restaurant, a popular place with a line out the door, and a great deal for an all you can eat buffet for about $15. Next door was an Amish gift shop that sold their wood carvings, souvenirs, and their famous Shoo-Fly pie. We look forward to our next trip to Lancaster and the Amish country and all their wonderful hospitality!