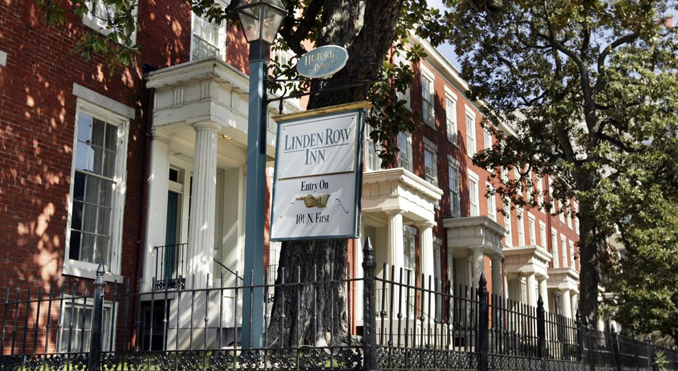 100 Years of Edgar Allan Poe Museum in Richmond, Virginia!
Ever since we retired we have been getting to spend parts of our summers in West Virginia, while frequently 'escaping' from our mountain paradise to discover other interesting places. In the September issue, as you might remember, we featured the fascinating, historic town of Abingdon, Virginia. That's where we decided that it was time to discover the capital of the Commonwealth of Virginia, Richmond. Uber-rich in history, located along the fall line of the James River, Richmond served as the capital of the Confederate States of America during the Civil War.
In regards to accommodations, there are lots of options, but we often go for history, and decided to stay at the Linden Row Inn and then go for dinner to the historic Jefferson, with both located within walking distance from each other. The Linden Row Inn, on the National Register of Historic Places, is a 70-room historic boutique hotel located in the heart of downtown Richmond and just minutes away from all major attractions in the capital area. The Linden Row is a collection of Greek Revival row houses that make up the Inn and have played a significant role in the history of Richmond for two centuries. As a child, Edgar Allan Poe played in the private garden that occupied this site, and he later courted his first love, Elmira Royster, among the roses and linden trees. Our accommodations, an elegant parlor suite, decorated in period style with antique furnishings, a king size bed, 12′ ceilings, floor to ceiling windows, gasolier lighting, sliding pocket doors, two marble fireplaces, and access to the veranda and gardens, was, inspiringly romantic. www.lindenrowinn.com
"There fell a silvery-silken veil of light, with quietude, and sultriness, and slumber, upon the upturned faces of a thousand roses that grew in an enchanted garden…"
Ms Carla Murray, of Richmond Region Tourism, had suggested as one of the dining options The Lemaire, the premier restaurant at the historic Jefferson Hotel. Opened in 1895, and since 1969 on the National Register of Historical Places, the Jefferson Hotel was the dream of Lewis Ginter, a man who was recognized as one of Richmond's most modest and generous citizens. To create this dream, Ginter had commissioned a renowned architectural firm from New York who also designed, besides many prominent buildings, the Ponce de Leon Hotel in St. Augustine, Florida. While we were waiting for our table, we had forgotten to make reservations, so we visited the museum located at the bottom of The Jefferson's legendary Grand Staircase. No less than thirteen Presidents, including both Roosevelts stayed here as well as John D. Rockefeller, Scott and Zelda Fitzgerald, Gertrude Stein, Lady Nancy Astor, Charlie Chaplin, Ray Charles, Charles Lindbergh, Frank Sinatra and Elvis Presley, just to mention a few.
Patrick Willis, the Executive Chef, had joined the Lemaire team at The Jefferson just as the restaurant was launching its newly renovated space. Let me make this short and sweet, our dining experience, and that includes our service, was impeccable. We love to give a well deserved applause to the teams in the kitchen, the patisserie and to the floor; these teams are truly in sync with each other and on top of their game. Walter Staib, host of one of my favorite cooking and travel TV shows 'A Taste of History' would have a field day here within these historic walls with the young, innovative Chef and Virginia grown ingredients and elaborating on the Southern influences of Richmond.
After a pleasant rest at The Linden Row Inn we left early to find the Sub Rosa Bakery that our wonderful waiter at Lemaire had talked about. Theron wasn't just highly knowledgeable about Lemaire's menu and the ingredients but also where to get the best bread in town. Bottom line, we bought two loaves of Sub Rosa's classic, crusty bread. A little crazy when one considers that we were still on the go for another four days. However by the time we got back home the bread hadn't dried up or gotten moldy. I assume it kept well because it was packed in brown paper-bags and we'd kept it in our air conditioned hotel rooms, but who knows? It was the old world!
Breakfast we had at Lulu's, hard to find, but so worth the search. The food was great, the home fries spicy, but delicious, the coffee hot and the service beautiful. —I love Edgar Ellen Poe, the mystery around him and the fascination of the tragic love story between Poe and his first love, Elmira.
The Edgar Ellen Poe Museum opened in April 1922 and has recently received a transformative gift of nearly sixty treasured Edgar Allan Poe artifacts in honor of the museum's 100 year anniversary. This collection of items, including personal belongings, letters and rare first editions was donated by leading literary collector Susan Jaffe Tane. Highlights of the collection include Edgar Allan Poe's pocket watch, the engagement ring Poe gave to his last fiancée shortly before his death, and a fragment of Poe's original coffin.
Poe's engagement ring is evidence of the tragic love story between Poe and Elmira Royster Shelton. Engaged as teenagers, only to have their engagement broken by her father, Poe and Shelton became engaged a second time in the last months of his life. Poe gave Elmira this ring, engraved with the name "Edgar". He died just ten days before their wedding would have taken place. Ms. Elmira Shelton survived him by over three decades and claimed, toward the end of her life, that Poe had told her that she had been the inspiration for his final poem, "Annabel Lee." — The coffin fragment came from the original coffin in which Poe was buried, days after his death in 1849. In 1875, Poe's body was moved across the cemetery. When lifted from the ground, the coffin broke (and out fell Poe). No kidding!  www.poemuseum.org
Lunch we had also within walking distance of The Linden Row Inn. "Lillie Pearl" which prides themselves with "impeccable service, gracious hospitality, memorable guest experience and delicious food" was indeed a hit for us! Named after owner/chef Michael Lindsey's grandmothers Lillie Pearl (and Hattie), "Chef Mike takes West African heirloom ingredients and his North Carolina roots of Southern African American Cuisine through his culinary journey of global influences." In regards to "a memorable guest experience" — the delicious food, our waiter Garnell, who gracefully shared his positive energy, and the four charming ladies on the table next to us, all added to a wonderful experience.
After lunch we walked around the well-manicured grounds of Virginia's State Capitol and then toured the historic Capitol building itself. It houses the oldest elected legislative body in North America, the Virginia General Assembly, first established as the House of Burgesses in 1619. It was designated a National Historic Landmark in 1960. Inside the white, columned state capitol building, designed by Thomas Jefferson to resemble a first-century Roman temple in France, is the only sculpture of George Washington produced in his lifetime. All others out there are reproductions. — For our obligatory afternoon coffee break we stopped at Sefton Coffee Co, a nearby coffee roaster featuring pastries from a local patisserie! BTW the petite apricot bars came from Axelsdotter! Insanely good!
The Virginia Museum of History & Culture was another place where we wished we had more time. The VMHC is owned and operated by the Virginia Historical Society, the oldest cultural organization in Virginia. By collecting, preserving, and interpreting the Commonwealth's history, they link past with present and inspire future generations. Because history matters! Btw, adults who show an "I Voted" sticker and kids under 18 receive free admission on Tuesday, November 8. Active Military & Veterans receive free admission on Friday, November 11.
Our final dinner in Richmond VA we had at "Wong Gonzalez". Indeed not quite like any place we've been before. Advertised as "A concept born in the hawker stalls of Malaysia's bustling town centers where all the wonderful and dynamic flavors of Southeast Asia are found and then raised in the kitchens of small Mexican towns. Not just Chinese… not just Mexican." Innovative, indeed!
As I mentioned earlier, we wish we'd had more time, there are so many places of interest, historic and otherwise, which we didn't even have the time to explore. Breakfast the next morning we had at Perlys, a delightful Jewish restaurant and deli just around the corner from the Inn. Two eggs over easy and potato latkes with applesauce for me; but for my husband and the guys at the bar counter just a little more.
Our final stop of our visit was the James River! In 2012, Outside Magazine named Richmond the Best River Town in America and we were not leaving the hospitable city without seeing first hand why. The James River Park System sees as many as 2 million annual visitors, making it the most visited attraction in Richmond. The 600-acre urban oasis that features rocks, rapids, meadows, forests, and an abundance of plant and animal life is a pristine bit of wilderness with 40plus miles of trails in the heart of Richmond. T. Tyler Potterfield Bridge granted us a breathtaking view of the James River rapids that we will not forget. www.visitrichmondva.com
Until next month from another interesting location!
~Love, Ingrid
Escape From Paradise: www.EscapeFromParadise.net
www.facebook.com/ingrid.lemme         #EscapeFromParadise
Award-winning TV Host, Publisher, Travel Writer.
Ambassador for www.Seven-Stars.com & 15 Emmy awards www.aTasteofHistory.org
www.twitter.com/LemmeEscape         www.instagram.com/ingridlemme