Seaside Fare with a Mediterranean Flair
by Sue Giustino
Head Chef George Nikolopoulos has eloquently created a menu with a nod to his Greek heritage.  Along with an extensive Sushi/Sashimi/ Specialty Roll menu, the main menu selections, as well as the nightly specials, makes Westlake Fish House a perfect choice to satisfy any palate.
Always enjoying the owners, James and Laura, as well as their friendly staff, we look forward to visiting Westlake for an afternoon app and cocktail, lunch, or dinner. Situated on the dock at the Westlake Marina, there's a variety of seating choices. The cozy indoor dining room and bar area, the enclosed casual back porch and bar, or out in the back for a cocktail and live entertainment. Taking our seats in the back room on the evening of our visit, we were able to enjoy the music of 'Shecky and the Twangtones' from the backyard. After speaking with Chef George about some of the evening specials, we decided that it would be chefs' choice for our review.
Starting with a few of the evening specials, he sent a nice array of dishes. With colorful chunks of fresh tomato, cucumber, pepper, onion, feta and a light dressing, this authentic Greek Salad is a perfect dish to share. The tasty Blistered Shishito Peppers topped with eel sauce and furikake provides a slight crunch, along with a sweet, salty, and smoky flavor to the peppers. One of my new favorites, is the Mexican Shrimp Cocktail which comes arranged around a dish of Mexican cocktail sauce and crisp tortilla chips. I love that the sauce adds a gentle and unique fresh flavor to the large shrimp, it's a welcomed change from original cocktail sauce.
Our waiter Johnny arrived with our cocktails along with Ira's signature Avocado Margarita; a blended, frozen treat. The smooth avocado and tequila mix is luscious, however with all of the food we were enjoying, I had to resist drinking it all. Each of the cocktails are delicious, the variety, along with a list of wines and beers, offers something for everyone. The Basil Lemonade is basil forward, prepared with vodka, and great for a warm afternoon. To add some spice to your life, the Sea Dragon is a blend of jalapeno infused tequila, triple sec, pineapple juice, and homemade sour mix. A good choice to pair with sushi is the Saki Tini, the mix of Junta sake and Nue cucumber vodka, giving the drink a nice refreshing flavor.
Appearing now and then on the specials, is the Shredded Pork Tacos:  With three white corn tortillas sprinkled with a delicate blend of toppings that accentuates the fresh pork flavor – Pico de Gallo, avocado crema and queso fresco. A house favorite, and popular with our dining guests, is the moist and flaky Pan Roasted Salmon. Dished with sautéed pea shoots, oyster mushrooms, and a miso glaze it's not your ordinary salmon dinner.
Always creating dishes around local fresh catch, and since Striped Bass has been running in the past few weeks, chef used it for a few of the specials. Delicate bundles of thin striped bass wrapped around julienne cucumbers and mango, then topped with a jalapeno slice, resulted in a lovely presentation and even better taste. However, the savory Pan Seared Striped Bass was a table favorite! Fresh from the water, gently seared and perched atop a bed of garlic mashed potatoes, asparagus and pea tendrils (sauteed with bits of fresh bacon) on the side, and a fabulous lemon sauce-it was unbelievable. There's nothing like freshly caught fish, and when it's accompanied by such a beautiful variety of flavors and textures, it can't be beat. Even the pea tendrils, which I can't recall ever eating, were so tender and tasted a bit like a mix of broccoli rabe and spinach.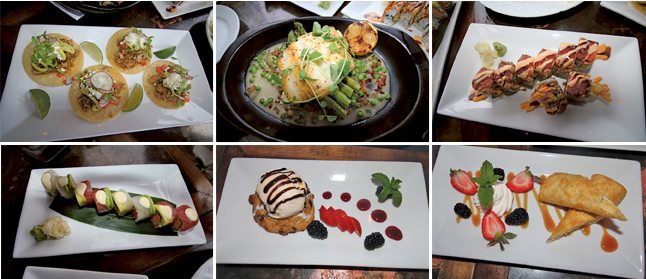 A trip to Westlake Fish House cannot be complete without some sushi- or as in our case, a lot of sushi, sashimi and rolls. First came the Sashimi Deluxe, which is a large platter full of beautifully arranged pieces of fresh fish and garnish; tuna, yellowtail, striped bass, fluke, octopus, and salmon. A special roll of the evening was the Rosa, which included salmon, tuna, yellowtail, cucumber, and avocado inside pink soy paper and creatively arranged like a pinwheel.  One of my go-to rolls is the Rough Riders, with shrimp tempura and cucumber inside, spicy lobster salad and seared tuna outside, the combination of texture and taste is perfect. And finally, The Lighthouse Roll included spicy scallop and tobiko inside, with avocado, fluke, and tuna outside. So many delightful choices, it's hard to choose.
Dessert? Well of course. The 'right out of mom's oven' warm and chewy Chocolate Chip Cookie served with a scoop of ice cream and fresh whipped cream was decadently delicious.  Of course, so was the warm Molten Chocolate Cake; arranged with an array of fresh fruit and vanilla ice cream. The Banana Caramel Cheesecake Churro– well that pretty much says it all. Crispy outside, creamy inside, an excellent choice for banana fans.
With so many savory creations on the menu, you'll want to keep coming back for more. You may even want to consider a post-workout Avocado Margarita on a sunny afternoon.
Westlake Fish House is closed Tuesdays- they serve dinner on Monday, Wednesday, and Thursday, and are open for Lunch and Dinner Friday, Saturday, and Sunday. Check the website for hours and entertainment updates.
https://westlakefishhouse.com/
352 W Lake Dr, Montauk – at the Westlake Marina