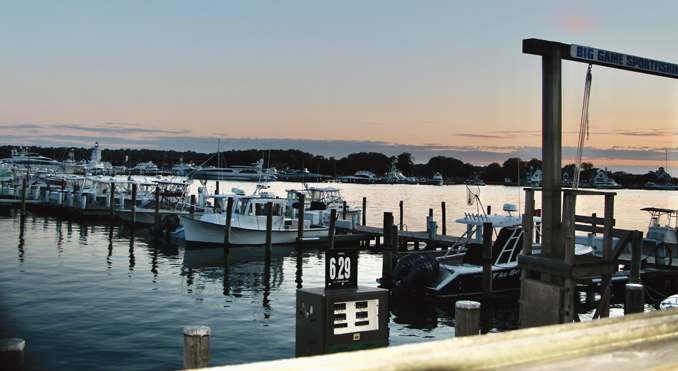 Welcome Back Amy!
by Sue Giustino
After a one-year hiatus, Amy and her crew are back and ready for a great season. There's been a few menu changes, but the location on the dock, with a fabulous sunset view, remains the same.
After a trying mid-week round of ladies' twilight golf, we headed over to East Lake Drive for some much-needed food and libations. Fortunately, for us, our spirits were immediately lifted! Steve, our friendly and witty waiter, made a few recommendations from the impressive cocktail list. Our selections, both colorful and quite tasty, were from the 'Cocktails from Our Fleet' side, creatively named after some of the boats in the marina.
Captain Ron's Rum Punch with a dark rum floater had a lovely pineapple Hawaiian tropic flavor. The Gin Beach Fiz with Empress Gin and Elderberry, and the Sea Horse Haze with Vodka and lemonade, were both light and refreshing. Other tasty summer creations include the flavorful but not too sweet Merrittime Watermelon Martini, and the perfect traditional Cosmo, with a sugar triple berry rim. They also have a few frozen drinks that sound inviting, including Froze, Pina Coladas, Mudslides, Margaritas, and a Coconut Mojito.
Although Amy is the Head Chef and restaurant owner, this year she also has Chef Nelson in the kitchen. We decided to let the Chef send out some of this season's favorites. To start, we had an array of appetizers. The Flash Fried Calamari with cherry peppers and fresh basil was an instant hit; crunchy yet perfectly tender. The loaded Sheet Pan Nachos was a beautiful blend of flavors, textures, and colors. Crispy chips with the works; cheese, Pico de Galo, jalapenos, olives, tomatoes, sour cream, and fresh guacamole. The Chopped Baked Clams with lots of herbs and cheese were described by a friend as 'a celebration in your mouth'.
Next came a' yet to be named' special creation, that Nelson was trying out on us. Flash fried Soft Shell Crabs with pan seared Shrimp over house made slaw, and crispy potatoes, all with a tasty chipotle aioli drizzle!  Hands down one of our favorites, and soon to be menu special.
Speaking of the slaw, its homemade fresh flavor was a delicious accompaniment to some of our main dishes, like the Lobster Roll and Fish and Chips.  We had the cold Lobster Roll, but it can be served hot as well.  Be ready for a generous portion of lobster in a light dressing on a buttered toasted roll, with slaw and homemade French fries; over a salad is also an option. The Fish and Chips, also served with the fries and slaw, has large pieces of beer batter cod fish that are light and crisp. Todays Fresh Day Fish Platter with fork-tender oven baked blackened fluke, asparagus, broccoli, zucchini, and peppers all over quinoa and brown rice is a great healthy and delicious option.  Finally, one of my favorites, and the other ladies also agreed it was outstanding, is the Crunchy Tuna Wrap. Filled with a unique blend of flavors and textures- an 8oz Ahi Tuna Steak, wasabi peas, tempura flakes, crispy spinach, and cusabi in a spinach wrap- it's delectable and perfect for lunch or dinner.
In addition to all of these amazing dishes, they offer Baja Street Tacos arranged in a flour tortilla or lettuce cup. Your choice of grilled, fried or blackened shrimp or day fish, grilled or blackened chicken, lobster salad, Thai Chili rock shrimp, seared tuna, and even fried soft-shell crab- all prepared with Pico de Gallo, cilantro slaw, avocado and poblano drizzle. I didn't have any this time, but I've enjoyed them in the past, and they are absolutely delicious.
The menu also includes New England Clam Chowder, raw bar selections, burgers, salads, a number of additional appetizers and main meals, kids' meal choices, and sides.  And don't forget to ask about dessert. We had a smooth and creamy Coconut Flan with fresh whipped cream- described by another of my friends as a combination of vanilla, coconut and bliss!
The Gin Beach Café has it all; spectacular food and cocktails, along with the serene ambiance provided by the sights and sounds of the water. A perfect choice whether you're looking for a meal to take along on the boat for the day, or for a sunset cruise, or if you want to sit by the water and dine in. Coming in from a day of fishing you can even have your catch prepared with the "You Hook 'Em, We Cook 'Em" options. They also offer off premise catering, check out the website for information:
467 East Lake Dr.  Montauk, NY 11954  •   631-483-5111