by Sue Giustino
Butchery, Deli, Grocery, fresh Dinners, Grab-n-Go meals and sides, and Catering– Tony's Meat Market is one stop shopping featuring top quality meats and prepared foods. Tony's has been serving the South Shore of Long Island for 32 years and they are excited to be a part of the Montauk neighborhood!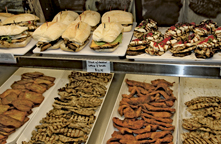 After a successful first season, they continue to make additions and changes for next season.  Increasing their specialty sandwich options from eight to thirty-two, expanding the breakfast menu, incorporating pre-made heroes for a quick grab-n-go for those on the run, as well as a warming station for easier, quicker service are all need based changes that have already been made.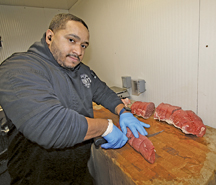 In addition, Ray, his son Nick, and their staff have been gearing up for the fall and winter.  With the change of seasons, they've increased their daily soup variety to seven, and have a wonderful selection of 'warm cozy foods' to bring home and enjoy on a cool fall evening: eggplant parmigiana, meatballs, wonderful pasta dishes, multiple chicken creations, along with hot dinners including an array of beef, and turkey, and meatloaf [that can even be stuffed with a variety of delicious treats].  Short on time, or need a break from cooking? Why not stop by Tony's, pick up a delicious quality meal and feed your family. Need a few sides? Accompany your main with any of the large list of pre-cooked dishes including; salads, pastas, potatoes, vegetables, and fresh breads like you get from Arthur Ave. In addition, they're planning 'Taco Tuesdays', and Friday 'Underground Pizza Club'- with access for locals who join the network. If you sign up, you'll get e-mails outlining the night's pizza verities and can make your order right through the phone.
Very neighborhood driven, the team continuously make changes according to the needs of the community. Helping to meet the demands of everyone's busy schedules, different dinner options will be displayed each evening in the warming case. In addition, if a customer calls in the morning, they can prepare specialty dinners for the evening. Fantastic quality food and so convenient.
Also being Montauk residents, it's important for them to have their business accepted by the community. While speaking with Ray, the owner, he explained that he and his staff are proud that community members continue to come in and mention how thankful they are for the market, saying that the dock area needed something like Tony's.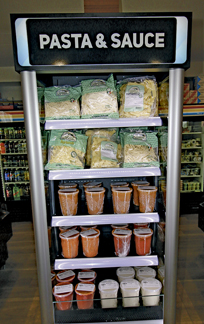 Part of fostering their acclimation and acceptance includes offering special programs and services, as well as hiring friendly local staff. As a long-time Montauk resident, Gill Villarreal, the store manager, has a good understanding of the needs of the community. He also comes with a wealth of experience, including having worked at Gaviola's Market for 12 years and Goldberg's for 8 years as manager.  A Locals Discount is also available, it is good for everything except catering, tobacco and alcohol- be sure to sign up on-line. Another convenience is the school lunch program for the Montauk School children. Orders are called in before 10:30am and a sandwich with a side will be delivered to the school by 11:50. Finally, after waiting for approval, the EBT Card can now be used in the Montauk store.
Catering is always available- great for game nights, Super Bowl parties, holidays, New Year's Eve Parties, or any other occasion. With the holidays right around the corner, they are taking orders for fresh turkeys that you can take home to prepare with your family. Not looking to do the cooking? Maybe a small stuffed turkey breast is just what you're looking for to entertain your guests. Tony's Meat Market offers a complete catering menu to make your parties and holiday dinners a complete culinary success.
Located in Montauk Harbor, 541 W Lake Dr., Montauk – across from the Viking Fleet and Uihlein's Marina, Tony's, MONTAUK'S NEWEST OLD SCHOOL MEAT MARKET, opens by 5am for the early breakfast/fishing/working crowd offering coffee, juice and breakfast sandwiches. Heading for a hike or picnic on the beach, the full deli and grab-n-go options are numerous. And whether you're cooking or looking for a prepared dinner, the butcher counter and fresh meal options will not disappoint.
Currently their hours are 5am-8pm- Be sure to check the website for catering options and any possible winter changes.   631-483-5040 https://www.tonysmeatmarketmontauk.com/