The Resurrection of the Reconstructed Bra Fashion Show and Auction
After a 2-year postponement, due to COVID, the Reconstructed Bra Fashion Show and Auction is back on the calendar for its' 10-year anniversary. In January of this year, the Bra Auction committee decided to cancel the 2022 event as well because the future of COVID was uncertain and the event would only be a success with a crowd. By March, mask mandates were lifting and large events were happening once again. Unfortunately, it was too late to pull the event together for the usual date in May.
At the "Love Bites for Katie's Courage" event in March, Stacy Quarty, President of Lucia's Angels and Executive Director of the Coalition for Women's Cancers ran into Ian Duke of the Southampton Social Club. The two discussed the unfortunate postponement of the Bra Auction. Feeling compassionate about helping this local fundraiser, Mr. Duke offered a summer date for the event. In years past, the event only took place in the off-season as to maximize profits for the restaurant. "It's going to be a stretch to pull it off in this little time, but we couldn't pass up this generous offer," remarked Quarty. Quarty and co-chair, Susie Roden quickly got to work securing models, artists and volunteers.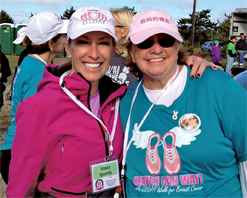 The 10th year of the Reconstructed Bra Fashion Show and Auction will be held at the Southampton Social Club on Thursday, June 30th and will feature 10 models; 20 wearable works of art, designed by local artists; and 5 well-dressed or costumed escorts. The auctioneer of this wildly-entertaining event will be a local favorite, Michelle Reilly of Herbert and Rist. Ms. Reilly also has a deep connection to the cause as one of her best friends was named for one of the event's benefactors – Lucia's Angels.
The Bra Auction will be dedicated to Batya Smith of the Shinnecock Nation and Sag Harbor, who was loved and cherished by many and lost her battle to breast cancer in February of this year. The Coalition for Women's Cancers and Lucia's Angels assisted Batya and her family through her cancer journey and will be the benefactors of this event.
Tickets can be purchased at www.LuciasAngels.org/bra