by Sue Giustino
Tucked away behind the beautiful landmark American Tudor building on Second House Rd., which houses some 60 uniquely renovated bungalow-like rooms, is Montauk's hidden gem- The Backyard Restaurant. Located behind the Tudor, it's available for hotel guests and visitors.
From the side parking area, you step into a spacious lush yard complete with low hanging lights strung between the trees, hammocks, and wooden Adirondack chairs, as well as an inviting fire pit section.  As you stroll around the yard, an immediate feeling of transformation to a remote plush island resort overcomes you. The feeling is reinforced while passing through the baboo tunnel leading into the restaurant; there's something mystical and peaceful about the property which sets the mood for an enjoyable stay and/or dining experience.
Depending on your preference, four seating options are available; a side patio overlooking the yard, the airy main dining room with a costal charm, or at the adjacent bar with a view of the back pool- dotted with additional tables and couch seating.
The weather was perfect so we chose to sit poolside, under a tree where the ambiance is enhanced with the low lighting, and view of a heated backyard pool and surrounding oversized St Tropez style beds.
Our lovely waitress Piatra, who we discovered is from Pittsburg and studying fashion design, took our drink orders. Each of the crafted cocktails, a crisp vodka martini, spicy 'Hot Tauk' Margarita, and a rum 'Backyard' Punch, were delicious and a refreshing way to relax before dinner.
This season, the Backyard has welcomed back Chef Eduardo, who in his absence from Montauk has been busy adding to his culinary resume. Our meals were wonderful, reflecting his abilities and creativity with his craft.
To start, we had a few delicious appetizers. I choose not to have the Yellow Cab Gazpacho– which I usually do enjoy when dining here because it's always so delicious. However, there were many other choices that were quite appealing, so I decided to skip it this time.
The Wild Tuna Tartare which consists of a trio tower of pickled ginger, refreshingly cool chopped Cucumber, and tenderly seasoned diced tuna, served with crisp Taro Root Chips- has a wonderful blend of textures and flavors. I realize that I've mentioned many grilled octopus' dishes that are served around Montauk, and what I really appreciate is that each chef adds their own unique twist to this delicacy. The Backyard Grilled Portuguese Octopus with oregano, Harrisa, caper belly, lemon, Gigante Beans and grilled lemon, is yet another tender and flavorful variation of this popular dish.
Wanting to try one of the salads, we decided on the Romaine hearts– crisp, light and clean, it's a great summer salad blended with Barrel Aged Feta, Shaved Fennel, Croutons, and a gentle Caesar Vinaigrette. Our fourth choice was a unique and flavorful Arancini, prepared with a smooth delicate blend of rice with wild mushrooms and parmesan, with a crisp outer crust. Being delicately plated atop a bed of fresh tomato sauce rounded out this lovely Arancini dish.  As if four wasn't enough, they sent out a flatbread for us to try, and I'm so glad they did! I enjoy a nice flatbread, but I really loved this combination of toppings. The crisp Grilled flatbread had a spread of a mouthwatering artichoke pesto, upon which was piled peppery arugula, thin slices of prosciutto, and grated parmesan.
As with the appetizers, the array of main meal choices appeals to all diners, offering seafood, chicken,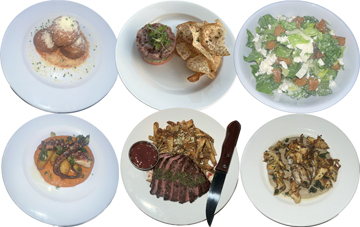 steak, and pasta dishes all designed with a variety of fresh ingredients. Our choices covered land, sea and grain. The perfectly Grilled to order juicy Flat Iron Steak is accented by an outstanding Chimichurri and served with Truffle Fries. Offering a different style steak as well as a selection of fish choices, the 'Simply Off the Grill' section of the menu, allows you to customize the protein with your choice of a side; Creamy Polenta, Grilled Asparagus, Broccoli Rabe, or Truffle Fries. Either way, the result is aromatic and aperitive.
Perched upon a delectable spread of Eggplant Puree, the delicately cooked Monk Fish is topped off with Crispy Artichokes, and preserved Lemon Herbed Olive Oil. Such a lovely, clean, and very tasty fish choice. Another divine choice, is the Seafood Paella. Aromatic Calaspara Rice with Chorizo, Peas, and Saffron sits in the center of a shallow bowl, and is adorned with fresh fruit of the sea- Mussels, Clams, Calamari, and Shrimp. This Paella is bursting with flavor and goodness. Our final choice was the Rigatoni Ala Norma: The name Pasta alla Norma is said to have originated from the cry of joy and approval that people cannot repress after they eat this Sicilian specialty: "This pasta is a NORMA!" -meaning a masterpiece. And Chef Edwardo is absolutely deserving of that cry.  His al dente rigatoni was tossed with roasted eggplant, basil, ricotta salata, and tomato sauce with a little kick, then generously sprinkled with fresh aged grated cheese.
As always, it's imperative to leave a bit of room for a sweet treat. We were served a warm Bread Pudding with a gentle caramel drizzle, and my favorite, a warm Flourless Chocolate Cake with a dish of Salted Caramel Gelato- perfection.
With the plush grounds and elegant catering options, Sole East is a beautiful spot for weddings and parties.  Serving Breakfast, Brunch, Lunch and Dinner The Backyard @Sole East is located at 90 Second House Road.  For information and hours- call 631.668.2105, or go to https://www.soleeast.com/restaurant .