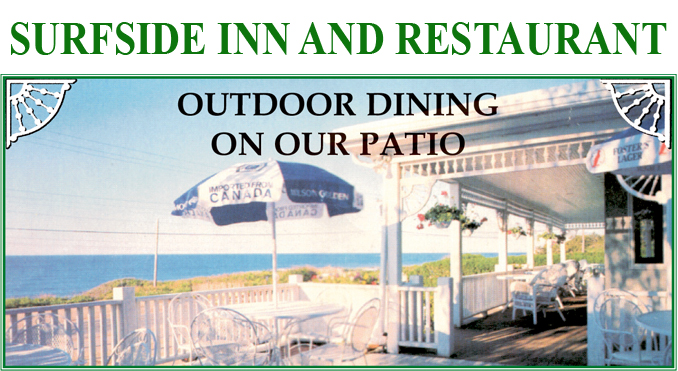 by Evelyn J. Mocbeichel
One of the pleasures of living in or visiting Montauk is the experience of dining out to enjoy the selections of a favorite restaurant. Combine this with the company of good friends and you have the makings of a delightful summer night. Our visit to Surfside Inn & Restaurant was exactly what we were looking forward to on a lovely August evening. Family owned for forty years, "The present owners have taken the history and tradition of the premises to heart and operate the Inn and Restaurant with the motto, "MONTAUK THE WAY IT USED TO BE." Without a doubt the owners have succeeded in every aspect!
Located on Old Montauk Highway, facing the ocean, one of the highlights of Surfside Inn & Restaurant is the incredible views of the majestic Atlantic! Pulling into the front parking lot facing this charming, shingled, colonial, revival style building with its ornate scalloped trim and huge blooming hydrangea bushes decorating the entrance starts the mood for serenity and beauty. In front of the restaurant a long veranda extends to the length of the building, wrapping to one side into a larger patio area. There is outdoor seating for dining on both of these sections for guests to enjoy. As we entered the large dining area, it's easy to notice the striking color of the aquamarine water glasses on top of crisp white linen table cloths throughout the restaurant. The glasses reminded me of dazzling bits of colored beach glass along the water's edge that I would look for and find as a young child. What is beach or sea glass as some call it? It is simply broken pieces of bottles that were tossed on shore or into the sea that became smooth because of currents and waves. It is nature's rock tumbler that takes 10-20 years to make these sea gems. As the sunlight streamed into the dining room, the water glasses seemed to take on their own attractive glow with the sun still brilliant late into the day, highlighting Montauk's gorgeous weather.
Our hostess seated us at an absolute perfect table by the window facing the ocean. Since two sides of the restaurant have huge, wide windows, an extensive number of tables have this same awesome view. Throughout the restaurant the same panorama can be seen as the last remnants of day light twinkled across the water's surface. Our appetites were ready after a full day at the beach swimming and walking the shoreline. Within minutes we were greeted by Devon, Floor Manager and our server that evening. Friendly, gregarious and outgoing, we were given the menus and said he would return to take our drink orders when we were ready. We asked for some suggestions and he was quick to note a few of the creative homemade specialties like the Watermelon Vodka Martini, with fresh cut watermelon, or mixologist Jorge's favorites, Cucumber Jalapeno Tequila Margarita with fresh lime and sliced jalapeno or Surfside's Sunburst, a raspberry vodka Chambord, lemonade with sliced orange. A full wine list and beer are also available. Now here is the complicated part, to select something to start with from the long list of outstanding specialty drinks! The Jalapeno Margarita was the one our friend Mary had wanted even before Devon's suggestion, so it confirmed her choice. Decisions made and the Pomegranate Martini with Vanilla Vodka and Surfside's Sunburst won the competition for tryouts.  All were unique and satisfying choices and a nice start to what followed. That settled and drink orders placed, we moved onto the appetizers and entrees list to pick from. Executive Chef Juan Brufau doesn't make it easy for guests' decision about appetizers or entrees as each description piqued an interest that would delight most food connoisseurs. We had heard about the generous portion sizes of the entrees at Surfside and hesitantly selected only three starters for the four of us, although the Asian Vegetable dumplings with Asian dipping sauce and the Chef's New England clam chowder were tempting to be ordered. They would be tried on our return visit we agreed.
Clams Surfside, six whole baked Clams topped with breadcrumbs and a white wine and butter sauce, jumbo shrimp cocktail served with house made cocktail sauce and lemon and a house special salad our friend, Joel picked was mixed greens, raspberry vinaigrette, gorgonzola cheese and fresh blueberries was outstanding!  The three appetizers were delicious and as we surmised perfect for bits of sharing, knowing the portion size of entrées that were to follow. At this point I'd like to include a word about the service and staff attending the full dining room that night. Our water glasses were always refilled, empty plates cleared away at the appropriate timing and inquires if we needed anything was frequent, as I also noticed it was for diners at other tables. Besides delicious food, I truly believe service and attentiveness go hand in hand for any dining out experiences.
Naturally when in Montauk visitors' number one meal choice is usually from the sea. At Surfside Inn & Restaurant, all ingredients are locally sourced for absolute freshness for their menu items including the produce and coastal cuisine. Devon returned to inform us of the specials that evening that we might like. The grilled cod nesting on a bed of sauteed spinach with a light curry sauce and sliced oranges caught my eye, while my husband picked the Savanna Style shrimp with Andouille sausage sauteed with red and green and onions over cheddar cheese grits.  After Mary ordered the sesame pan seared Saku Block Ahi tuna served with field greens, drizzled with Balsamic glaze, seaweed salad and pickled ginger and wasabi, Devon said the Chef's suggestion "for maximum enjoyment was to have the tuna rare or medium rare." So medium rare it was. Now three orders were from the sea, Joel couldn't resist the ribeye steak, mashed potatoes and grilled asparagus, knowing he would be sampling his wife's ahi tuna, too. Honestly, finding which entrée to select was no easy task considering all the tempting menu items! Under "From the Farm" was an 8 oz Prime Filet Mignon, Barbecue glazed Pork Shank, Mango Chipotle BBQ baby back ribs, Chicken Paillard and roasted Long Island duck topped with orange Grand Marnier Sauce, wild rice and seasonal vegetables. Then there is Pasta, Pasta, Pasta a select menu of mouthwatering dishes Sous Chef Fernando Mireles has developed along with the appetizers that will tempt any palate. There is Lobster Ravioli, Sautéed Shrimp Capellini, Linguine with white or Red Clam Sauce or Homemade Beef Bolognese Sauce. Surfside has an array of menu selections to satisfy every guest in your party.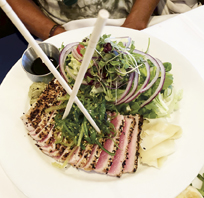 The timing was perfect and after the appetizers were thoroughly enjoyed and finished, out came the entrees. Without exaggeration, each of the four entrees were absolutely works of art and truly photogenic! The Ahi tuna slices encircled one full side of the large dinner plate, while the field greens were topped with circular red onion slices and a pair of chop sticks stood like two mini crossed swords marking a victory of perfectly seared fish. The ribeye presentation was
equally attractive with the thick, juicy steak practically still sizzling, plump, grilled asparagus next to it, while the mashed potatoes were swirled into a decorative formation one would similarly see on a soft served cone. A small gravy server was on the plate, if extra steak sauce was preferred. When the cod entrée arrived, the size of the portion, topped with field greens and light creamy curry sauce, with side slices of oranges all on the bed of spinach was almost too picturesque to be disturbed.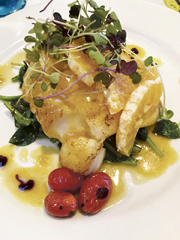 One bite of my light and flakey, delicate tasting cod told me I had surely made the right selection! When the Savanna Style shrimp dish was placed in front of my husband, I knew I had to take a taste and appropriate one of the shrimp and sausage piece from his dish. Both were tender and the shrimp succulent and combined with the cheese flavored grits beneath made this a flavorful combination that was totally pleasing. Naturally it is typical that diners eye each other's entrée to see if someone "out entreed them" as one talk show host said years ago that she does when she dines out with friends. I know perfectly well what she meant thinking the friend ordered something she wished she had picked instead of her choice. Dining at Surfside Inn & Restaurant each of us, while admiring a friend's choice, was perfectly content with what we had chosen. Offering each other a sample and taking a small piece across the table confirmed that every entrée was a winner in taste, presentation and the sides selected to go with the meal. Complements to Executive Chef Juan Brufau whose fifteen years there has proven his talents continue to impress and excite guests to revisit for changing daily specials as well as all time menu favorites guests can count on being there!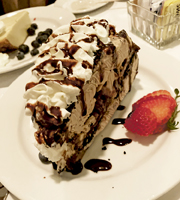 Never one to turn down a dessert, after finishing the meal, we felt satisfied and content to do without, until Devon came to the table describing some decadent and mouthwatering offerings. We just had to try the house made Mudpie a delectable concoction of coffee ice cream, Oreo cookie crumbs and dark chocolate fudge bits swirled inside and all topped with artistic swirls of whipped cream and strawberry slices on the side. Another favorite, the ever-popular Key Lime pie was a light, airy and perfect ending to round out our meal. Both were excellent choices and continued the evening's experience of exceptional taste, creativity and savory delights! A full list of specialty coffees can accompany any dessert ordered or stand alone as a delicious, end of meal option.
Oktoberfest is coming! Starting on September 7th, Surfside Inn & Restaurant will be offering traditional German cuisine such as sauerbraten with mashed potatoes, red cabbage or bratwurst and weisswurst and sauerkraut, along with their regular outstanding menu. People often wonder why Oktoberfest is held mostly in September and only lasts a few days in the month of October. We have heard several reasons. One being back in the early 1800's when Oktoberfest started, the celebrating began after the harvest season was over in Europe and ran into only the first week or so into October. Also, that the weather was warm in September for outdoor celebrating in the fields with food and of course, beer and wine to celebrate an abundant harvest. The most popular belief was it started back in 1810 when Bavaria's Crown Prince Ludwig married Princess Therese of Saxony. The wedding lasted multiple days with feasting, drinking and horse racing and was so popular it became an annual celebration. It's a wonderful tradition to lift a glass and say "Ein Prost!" (Rhymes with toast) and means to good health. Come celebrate Oktoberfest this September with friends at Surfside Inn & Restaurant!
Besides the restaurant, Surfside offers accommodations for guests wishing to stay at the Inn. Each room "provides beautiful light & natural decorated rooms; all overlooking the Atlantic Ocean, where open windows lend you beautiful sounds of the ocean. Visitors are steps away from path leading down to a serene beach where a short stroll along the shoreline or on a paved path leads to Montauk Village." Advanced reservations are required as the popularity of Surfside Inn is well known and favored.
685 Old Montauk Hwy. • Montauk, NY 11954 • Tel: 631.668.5958 • Fax: 631.668.1200 https://www.surfsideinnmontauk.com/