Adventures in the North Carolina Mountains!
Once in a while you get to visit a town that goes right to the heart and you almost instantly know that you will return someday. Blowing Rock is one of these places. Blowing Rock took first place in the 2023 "Best of the Mountains" reader poll for "Best Walkable Town" and "Best Main-Street Local Shopping Town" in Blue Ridge Country Magazine. Blowing Rock has long been a favorite destination for couples as well. Maybe it's the breathtaking vistas on the Blue Ridge Parkway, the fab restaurants or the storybook mountain village itself. Or it could be the romantic accommodations such as the historic Azalea Garden Inn located within walking distance of all. In addition, there is easy access to the Blue Ridge Parkway, Grandfather Mountain, The Blowing Rock and historic Boone. Boone, known as the Heart of the High Country, home of the Appalachian State University, is easy to reach within a quick 10 minute ride; so add an extra day to your stay and explore Boone as well. Btw, Boone is featured October 7th on PBS on "A Taste of History" with Chef Walter Staib. A Taste of History® is a national television series that explores America's culinary beginnings and has won 15 Emmys to date.
We'd admired the Azalea Garden Inn log cabin already two years ago when we stayed at The Meadowbrook Inn, its sister property. We picked up our keys at the front office from a friendly, young woman and told her how excited we were to stay at the cabin. The path that led to the log cabin was flanked with pretty Black-Eyed Susan flowers. The little front porch, with a neat swing, was surrounded by rambling flowers as well. The outside structure of the log cabin was authentic, right down to its split rail fence. So was the black iron mailbox by the front door. Inside the cabin we found a clean, well-maintained efficiency having a precious stone fireplace and a nicely furnished loft with a king-size bed that overlooks the main room. Azalea Garden Inn is positioned on 1 acre of award winning gardens with decks, covered solarium, streams, a waterwheel and a koi pond. All the flowering, well maintained gardens that surround the Inn are maintained by Craig, a handsome young man with two green thumbs. We parked our car close to the cabin and walked to town for lunch.
Within minutes we located, on Main Street next to Kilwins, the path to a new cafe we'd heard of. Cupcrazed Cafe, situated in a historic building, is listed on the National Register of Historic Places, with a lovely indoor & outdoor garden setting. It was Sunday and ala carte brunch items were on the menu. We were glad to have Amanda Lugenbell, one of the Directors of the Blowing Rock Tourism Development Authority, join us as we got the inside scoop of all the new things in and around town. Our order of Smoked Salmon Toast and Avocado Toast was delightful. So was the young lady who served us. We briefly met Cupcrazed's new Chef whom we wish the best of luck in his new position. Wendy Shanahan, the owner, later approached our table with a sampler of her sinful desserts that demanded from us a walk up and down one of America's most beautiful Main Streets.
Later at the historic Edgewood Cottage on Main St. across from St. Mary's Episcopal and Rumple Memorial Presbyterian churches, we met one of the talented "Artists in Residence",  David Nelson Collins. Built in 1890, Edgewood Cottage was the first home of renowned artist Elliott Daingerfield whose works are found in museums across America today. In addition to being an exceptionally talented and successful artist, he was also quite generous with his time and talent, helping other artists learn and develop their skills. After finding Daingerfield's original architectural drawings for the Cottage, the Blowing Rock Historical Society had lovingly restored Edgewood.
Of course we walked next door into the Blowing Rock Art and History Museum. BRAHM is rotating exhibitions three times a year. We were especially interested in "A Hundred Years of Horses: Celebrating the Centennial of the Blowing Rock Charity Horse Show". In 1923, one of Blowing Rock's most beloved traditions began as a small tournament on the hill behind Green Park Inn. A century later, the Blowing Rock Charity Horse Show at Wheeler Arena has transformed into a monumental event on a beautiful preserve that draws equestrians from across the country due to its reputation for being an exceptionally "fun" show for participants and spectators alike. The Blowing Rock Charity Horse Show is the oldest continual outdoor horse show in the country, having persevered through wars, depressions, and recessions.
We walked along Blowing Rock's flower-laden Main Street back to our log cabin at the Azalea Garden Inn to unpack, freshen up and ride up to Moon Thai Sushi Restaurant for dinner. Thai food is one of my husband's favorites. While I don't care that much for Asian food, I have to admit that if we would have lived in town I'd have taken the crispy chicken in curry sauce leftovers home. It was that good! At The Moon at Blowing Rock, they serve Thai or Japanese cuisine. After dinner we drove back to Main Street for one of Kilwin's to die for handcrafted Chocolate & Mocha ice creams in a crispy made-in-store waffle bowl.
We went to bed early and slept safe and sound on the second floor of the cozy cabin. When 6 am came around the next morning I went downstairs to brew some tea, opened the door quietly and sat on the swing. Inhaling the sweet smell of thousands of flowers while sipping my tea and listening to the mountain world slowly waking up was magical. For breakfast we followed a path through the gardens and along a pond with lots of ducks chatting in the early morning light, to The Meadowbrook Inn where a nice hot buffet-style breakfast was served. Soon thereafter we were on the road to Sky Valley Zip Tours for a brand new adventure, riding Cat Off Road all electric, 4-wheel drive vehicles through the woods to experience the muddy sites of the mountains from the ground up! We were a group of five with JT, an experienced young man, as our instructor and guide. The oldest person in our group was Ms Rose, 78, incredibly fit and calm (I think). We may assure you that we experienced the thrill of a lifetime with these EAVes that allowed us to conquer challenging inclines, rocky paths, streams and other hidden landscapes of North Carolina's High Country. Jack Sharp, a Brother In Christ, and the GM of Sky Valley Zip Tours offers traditional zip-lining and night-flights in the dark for adrenaline junkies of all ages.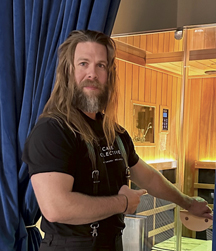 After two hours of a steady workout on these EAVes we were good for some real fuel and drove back to town for a quick bite at the Blowing Rock Market before we'd return for our next adventure, Zip-lining. The Market, on Main, is a deli, coffee shop, with a fine NC wine and local craft beer selection, and having indoor and outdoor seating with a vintage gas station facade. Coincidentally we got to meet David Barker, the owner and a mover and shaker, his lovely mother, and the sheriff who came around the corner the moment I sat on the tractor that was owned by Mr Barker's father. Unfortunately we had to skip the Big Mama – "Experiencing High Country from 300 feet above the valley as you fly across our exhilarating 1600 foot line" due to thunderstorm predictions, and chose another thrill. "The Blowing Rock" is an immense cliff 4,000 feet above sea level, overhanging Johns River Gorge 3,000 feet below. We skipped our actual sitting on "The Rock" thrill due to a light rain but were nevertheless rewarded with the most breathtaking views of the valleys and mountains.
We then decided to take a ride to the Original Mast General Store in the little town of Valle Crucis. This historic landmark, in the heart of the state's first rural historic district, has featured quality goods and traditional clothing since 1883. The community's post office is still in the corner of the store, and a cup of coffee is just 5¢ (on the honor system). Here I got another pair of great hiking boots, professionally fitted once again by Ms Rainey, a local teacher and a gem. We couldn't have chosen a nicer place for dinner that evening than the Storie Street Grille on Main. Ever heard of Asparagus Fries, battered & fried, with a goat's cheese ranch dip? Positively addictive! My NC Trout came pecan crusted, with NC heirloom grits, vegetable, and a lemon caper beurre blanc that didn't disappoint! Marcus had an unusual dark beer, brewed with roasted pecans; and thoroughly enjoyed his Chipotle pork tenderloin, jicama slaw, with sweet potatoes and chimichurri. It's a charming place, well managed by a young team!
Our last morning in this mountainous paradise was dedicated to 9 holes for Marcus at the Boone Golf Club, designed by Ellis Maples, started in 1959 and open to the public —while I'd spent time at a local spa. Located in a beautiful valley, between Boone and Blowing Rock, the course features level to gently rolling fairways, breathtaking views of the surrounding Blue Ridge Mountains and "The New River" runs through it. The Care Collective Spa is a calming and serene place. Their goal is to provide and maintain a secure environment for everyone looking for pain relief and relaxation. Thankfully I didn't experience pain, but the 60 minute semi deep tissue from Zia was a gift. Besides, the infrared saunas include medical grade chromotherapy. Color light therapy is used to help restore balance in the body, alleviate pain and swelling, decrease inflammation, and definitely contribute to my overall wellness. As soon as I left Care Collective, my husband arrived and a few minutes later we met with Ms Emily for lunch at Stick Boy Kitchen. Their sandwich  breads are made of naturally fermented sourdough with only NC grown organic flour, water and salt. I started baking my own bread a year ago and know a thing or two about good breads. Emily Neely is the dashing Director of Social Media and PR at Explore Boone who worked closely with the "A Taste of History" film crew team on location in Boone.