Interview With A Surfer
Photos by Kirsty Motion
If you surf in Montauk, you have had the lovely opportunity to surf with artist-photographer-musician-surfer Dalton Portella. We caught up with him recently to learn a little more about one of our favorite local surfers.
Where were you born and raised? I was born in Miami where we lived until I was 12 then my mother moved us to Rio de Janeiro, Brazil where I went through my 'deformative' years.
Tell us how you came to reside in Montauk? I saw a picture of Turtle Cove in a surf magazine in 1975 while I was living in Brazil, and was shocked to see that New York had waves. I never expected to live in New York but I was passing through and I got accepted to Parsons School of Design, got a job and a place to live almost all in the same day, so I stayed. I saved up for a year, bought a car and a surfboard and drove out to Montauk. 17 years later I bought a house and on 9/11/2001 moved here full time. While watching the Trade Center burn I thought about my priorities and what I would have regretted if I had died, I'd have regretted not being in the ocean more and not living the life I wanted, creating work that came from my soul. Up until then I was doing commercial work, mostly movie posters for Miramax and Dimension films, bringing other art directors work to fruition. I painted for myself but it wasn't my source of income.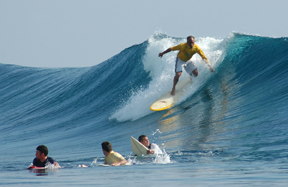 What do you do when you're not surfing? I'm an artist/photographer and musician.
What is the connection between art and surfing for you? Being an artist enables me to surf when I want. The ocean figures prominently in my photography and painting.
What do you love about photography? I love the immediacy, the stories I can tell, I love that it gets me out of the house. I use it as another tool in my artist's toolbox.
Favorite subject to capture? Don't know that I have one, whatever is in front of me at the moment.
We understand you are also musical, tell us about the drumming sessions. I'm a guitar player first and a percussionist second, go listen to Bastards of Boom on www.reverbnation.com/bastardsofboom and Dalton Portella at: www.reverbnation.com/bastardsofboom/ daltonportella
The last book you read? Barbarian Days: A Surfing Life by William Finnegan
What moment in your life makes you proud? In life, I am proudest of my daughter, and the fact that I managed to raise one that isn't as screwed up as I was. That is more an ongoing work than a moment.
How long have you been surfing? 47 years, I should be better by now.
Who taught you? I learned by watching everyone around me, nobody really taught me, maybe that's my problem.
If you had a super power what would it be? Turn back the clock.
Best part of being a surfer in Montauk? There are some magical places and some magical sessions alone in the winter.
Something surprising about you as a surfer? Dunno
You wish Ditch had…? Better crowd control.
What is the ideal day in the life of Dalton? Surf with my daughter, make some art, rinse, repeat. Family dinner with my beautiful wife and kid.
Favorite Montauk restaurant? Westlake.
Any winter surf plans? Going to Morocco tomorrow, it's not winter and there are amazing waves coming here so it's not such a great plan.
3 things you never leave home without on a surf trip? Art supplies, camera, board.
Do you speak other languages? Fluent in Portuguese, get by in Spanish, some French.
What's your favorite board? These last couple of swells it's an 8′ Bill Hamilton that has served me well. Love my 6'4″ Firewire too.
Who is your role model? Jesse Joeckel.
Best post surfing snack? Thai Chicken Wrap at Ditchwitch
Dream surf spot? Maccaroni's.
Place you should want to surf but won't? Big Lance's Right, I suck backside.
Any advice for beginner surfers? Learn some manners.
How would someone describe you in three words…? Ask them, I'm curious to know.
Best surf moment? I had a couple spectacular waves last weekend that still have me smiling.
What's a mistake you learned from? Drinking and drugging will rob you of everything.
Your work is most inspired by? Bacon, Schnabel, Homer, Steadman, Rauschenberg, Oliveira, Giacometti.
The magic of Montauk is found in…? The ocean.
If you were an animal what would you be? Dolphin or an Osprey.
Who is your favorite local surfer? Lief is gifted, John Anguilo is smooth, John Fran has great style, Mikey…
What's for breakfast? Cheddar omelet on a well-done English muffin. Bacon.
Last time you laughed? I laugh a lot.
Last time you cried? This past week when I learned of Hallie Ulrich, a 22 year old girl dying from a heroin overdose and Michael Goericke, her boyfriend dying the next day.
Surfing is best for…? Getting me out of my head.
Any last words? Be kind.