by Sue Giustino
Need a nice meal before heading back west? Had a rough Saturday night? Want a fun indoor or outdoor location to relax and eat a great brunch? Head to the Shagwong for "SundayFunday" and taste some of Chef Andrew Doran's latest creations.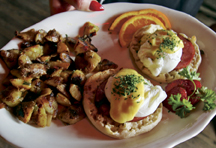 Fresh omelets, homemade corn beef hash, eggs benedict, pancakes, French toast, or even a hangover special- this is not your everyday brunch.
This is a new venture for the Restaurant – a perfect addition to their already successful lunch and dinner fare. We sat with Jason, one of the owners, and had a little of everything. Each dish was beautifully presented, but better than that, tasted delicious. Biscuits and hash is not usually my first choice- yet I really enjoyed them. The biscuits which are served with the hangovers special are so light and delicious, and make an egg sandwich that is extraordinary.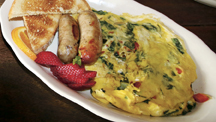 The corn beef hash, part of the JB breakfast, is exceptional-fresh and full of flavor. Fluffy buttermilk pancakes are always delicious, and they can be ordered traditionally, or with blueberries or chocolate chips. Sunday brunch never tasted so good!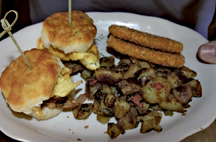 Whether you sit at the bar, in the dining room, or outside on the patio, this brunch is worth a try. Paired with a Bloody Mary or Mimosa, it will be sure to please all.
Of course, the way to make breakfast fun is to add live music and a DJ, and maybe a couple of guys dressed in a Bacon suit & an Egg suit!! Leave it to Jason to make brunch a party and call it "SundayFunday".