by Sue Giustino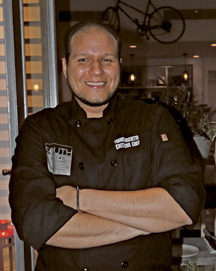 New owner, present and former Chef Frankie Fuschetto has taken on the restaurant business from inside, and out of the kitchen. Now as the chef/owner, he's done some remodeling; lightening up the floors and décor as well as a few menu changes. Along with General Manager Christine Peluso, they are looking forward to a great season.
The new look is airy, open and light, and being only two blocks from the ocean it really feels like a 'Key West' kind of beachy spot. For the menu he's pulled some fan favorites back from years past, as well as introducing a happy hour with lobster cocktail and rolls, $1 oysters, and drink specials. Happy Hour will be all week for the week of the 4th of July and then offered three or four days per week.
Frankie's been at South Edison for eight years- at first as their Pastry Chef, then Executive Chef. He originally trained at the French Culinary Institute in '07 and since then he's worked at Bo's Kitchen and Bar in NYC, and for Gourmet Chocolatier – Jacques Torres. Through the years, his studies with other chefs helped him pick up techniques and specialty pairing skills. We've always enjoyed many of his creations and were looking forward to our visit.
We started the evening with the Tuscany Burrata, fresh and creamy adorned with golden yellow beats, artichoke puree, ninja radish and pea-sprout pesto.  Fluke Sashimi and Fried Rock Shrimp followed, and each were prepared perfectly. The Rock Shrimp is crisp yet lightly coated with a slight spice and topped with fried ginger- which I'd never tasted and I really enjoyed. The presentation of the Fluke Sashimi made it almost too good to eat. The slice fluke was adorned with chili jam, lemon leaf, pickled watermelon, and jalapeno all perfectly blended creating an accent of flavor for the freshness of the fish.
For our main dishes we chose the Veal Chop and Gnocchi while Zuzana, our lovely waitress, recommended both the Seared Tuna and the Fluke. Each dish was elegantly presented and equally delicious. The blend of spice and fresh flavors leaving our tongues a bit aglow.
Hand Rolled Gnocchi with graffiti eggplant, heirloom tomato, basil and a special blended whipped pecorino was light and tender, quite a treat. The Seared Rare yellowfin Tuna was seared to perfection and dressed with harissa-cauliflower puree, rye berry, artichoke heart, tomato, Castelvertrano olive and haricots vert. not being the biggest fan of seared tuna, I hesitantly tasted it and what a surprise- it was tender and full of flavor.
The Fluke a la Plancha was equally tender and delicious served with corn puree, jalapeno puree, hen-of-the-woods mushroom, grilled corn, and sun-tan bell pepper. As I was not sure what the term a la Plancha means, I looked it up and found it's a rustic technique of cooking on a seasoned flat, grill like surface at a high heat. Apparently cooking food on a plancha sears the fish better than any other cooking surface can. This creates a browned, slightly crispy exterior while sealing in the juices; leaving the interior of the fish moist, tender, and juicy. With this technique, using the freshest ingredients is best and they need no enhancements, allowing the flavors of the food to shine through. Well, shine through they did.
Our final main dish was the Bone-In Veal Chop Parm prepared with a delicate Fra diavolo sauce and topped with gruyere cheese, and served with tender grilled broccolini. I really love a good veal dish and this crisp tender chop was perfect- spiced just right allowing the veal flavor to be savored. As seems to be the trend, the fish is local and most of the produce used is sourced from local farms; there's nothing like farm fresh vegetables to enhance a dish.  As my mother-in-law Helen put it "Everything was elegantly prepared and presented, and tasting light and full of flavor."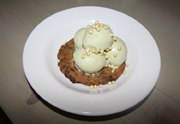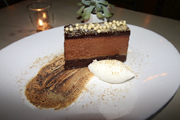 As the sun sets over Montauk, the low-lit lighting fixtures twinkle and glow enhancing the casual elegance of the room. At this point we were preparing for the dessert treats- which are always amazing and quite decadent here. Although we ordered two to share, three were delivered from their in house Pastry Chef Toni Ann Salvato. The dairy/gluten free Citrus Cake has a lovely blend of orange-almond and lemon coconut in the moist cake, with a raspberry-coconut cream and a side of ginger-hibiscus sorbet. Chocolate Chip Cookie doesn't exactly describe what this next dessert really is. A large soft cookie with a combination of dark and milk chocolate chips, served with matcha gelato- if cookies are your thing…this is a winner. Intrigued by the name, we ordered an additional scoop of the tangy, creamy, salty Carmel Cheese Cake Gelato– apparently created accidentally- but is uniquely delicious. Finally, the S'mores Brownie is a pure chocolate WOW! This 'brownie' is actually a layer of brownie on top and bottom of the thickest, smoothest, and perfectly dense chocolate mousse middle topped with a sprinkle of graham cracker crumbs. Surrounded by a pillow of marshmallow fluff, chocolate glaze and Chantilly. As a chocolate lover, I'm pretty sure this is one of my all-time favorites.
In addition the menu offers Raw Bar selections, Sides & Shares, and a complete cocktail, wine, and beer list, as well as after dinner coffee and cordial selections. A great spot for a light snack, drinks, dessert, or a full meal; South Edison is located at 17 South Edison Street, just one block south of town, and is open Wednesday- Sunday at 5:30pm.  So stop by after the beach or after an evening stroll through town.  668-4200. https://www.southedison.com.