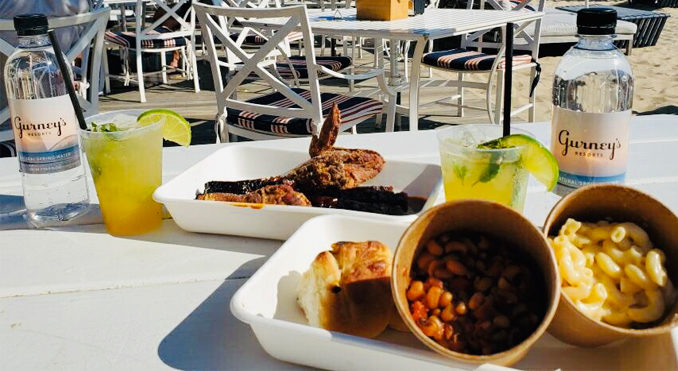 by Brittany DeMelio
Looking for a lively beachside dining option in Montauk? Gurney's Montauk Resort & Seawater Spa is now offering a weekly Sunday Barbecue at The Beach Club, from 11:00am to 6:00pm.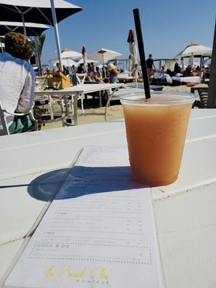 My husband and I recently visited the Beach Club to explore this new culinary addition to the Gurney's lineup. Upon arriving, we were offered a table on the Beach Club deck, or a picnic table right on the beach property. What could be better than dining with your toes in the sand? The DJ spun current hits for dining guests and those lounging on the nearby beach cabanas.
Our friendly server, Natalie, attentively took our drink orders. I decided on a frosé cocktail to beat the heat, while he chose a Watermelon Session Ale from our local Montauk brewery. The frosé was a refreshing frozen combination of Provence rosé, vodka, and strawberry-infused simple syrup, while the watermelon beer boasted a fruity, summertime flavor that would quench any beer-lovers thirst.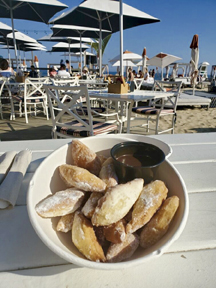 We enjoyed our cocktails as Natalie explained our barbecue menu options. Chef Christine and Chef Dane serve their food family style, with each portion size shareable between two or three adults depending. Our choice of three meats included Korean BBQ Short Ribs, Smoked Wagyu Brisket, Wood Fried Chicken, and St. Louis Pork Ribs. The choice of three sides, called "Odds & Ends," included Smoked Beans with Pastrami Bacon, House Made Pickles (Jicama, Radish, Baby Corn, Baby Carrot, and Dill), North Country Rice (Wagyu Burnt Ends, Spring Garlic, and Herbs), German Potato Salad, and Five Cheese Mac N' Cheese.
We decided upon the Short Ribs, Wagyu Brisket, Fried Chicken, Smoked Beans, German Potato Salad, and Mac N' Cheese. The Short Ribs packed a spicy kick from a house made barbecue sauce with cayenne, paprika, brown sugar, onion and garlic powder. The Wagyu brisket was a crowd favorite, offering a remarkably tender, melt-in-your mouth quality that I have come to associate with that top choice cut of beef. The crispy fried chicken had a distinctive flavor, which we learned is developed by incorporating the wood from the smoker during the cooking process.
The meats were nicely complimented by the decadently creamy Mac N' Cheese, which featured Pecorino Romano, NY Sharp Cheddar, and White Cheddar cheeses. The German Potato Salad had a uniquely rich flavor from the inclusion of bacon fat into the recipe. The Smoked Beans were infused with a savory taste from the addition of cured meat. During the meal, my husband decided to try the Passionfruit Mojito, created with a delicious mix of Bacardi silver, passionfruit, mint, and lime. I went with Gurney's "Rosé All Day" cocktail, which featured rosé,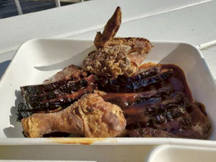 pammplemousse rose, and club soda. This creative cocktail added a flavorful new twist on a typical glass of the wine varietal.
The barbecue price-fix includes one alcoholic beverage, three meats, three sides, and one dessert. Our dessert choices included beignets with
powdered sugar and dark chocolate sauce, or butterscotch sticky buns with caramelized bananas and hazelnuts. We tried both, with the beignets standing out due to their zeppoli-like quality. The buttery fried treats were perfectly sized for dipping into the rich chocolate sauce.
If you or your guests prefer something besides barbecue, the Beach Club at Gurney's also offers a full café menu featuring starters, salads, tacos, skewers, and sandwiches. We tried the fish tacos, which boasted local fluke, pickled red onion, and chipotle mayo. The flavorful combination perfectly enhanced the fresh, Montauk-caught favorite.
The Beach Club is a chic summer spot for waterfront dining in an energetic atmosphere. Check out the Sunday barbecue to enjoy family-style wood smoked food and creative cocktails at one of Montauk's most stylish destinations.
Sunday Barbecue Menu
Served Every Sunday, 11am – 6pm at The Beach Club
Smoked Meats & Poultry
Korean BBQ Short Rib   $45.00           St. Louis Ribs   $19.00 / $30.00
Full (16 ounces)                                                 Half (6 ribs) / Full (12 ribs)
Pulled Pork $ 18.00 / $28.00                Buttermilk Fried Chicken $26.00
1/2 pound or 1 pound                                       Breast, Leg & Thigh
Sides
Five Cheese Mac & Cheese $12.00          Smoked Beans-Pastrami Bacon $12.00
German Potato Salad $12.00                    Caramelized Onion Parker Rolls $8.00
For Tickets Go To: gurneysresorts.com/montauk/happenings
631-668-2345    •   290 Old Montauk Highway, Montauk, NY