…Wildlife Photographer, Artist, Author and Environmentalist
by Debbie Tuma
It seems especially appropriate to be honoring and remembering Peter Beard around the time of Earth Day, because he devoted his life to preserving the animals of Africa, the erosion in Montauk, and the environment in general. He spent many happy and productive years living in his house high on the Montauk ocean bluffs, and traveling between there, Manhattan, and his home called Hog Ranch in Nairobi, Kenya. When he wasn't jet-setting around the world on his photo expeditions.
The adventurous, fun-loving Beard was last seen on March 31, when he wandered out for a walk around his wooded acres, and disappeared for 19 days. It was also known that he had dementia. With the help of helicopters, police and search parties, his body was finally found on April 19, in the dense woods of Camp Hero State Park, not far from his house. He was 82 years old.
Peter Beard's career spanned decades of artistic originality, from his spectacular images of animals, people and life throughout Africa, to his creative diaries filled with words, images, drawings, and found objects, such as leaves, insects, or even his own blood. His work hung in galleries around the world, including the Hamptons, Janet Lehr, of the former Vered Gallery, had an exclusive exhibition of Beard's work about 10 years ago, in East Hampton.
"We first met on the Hampton Jitney, when he had a place in Greenwich Village," she recalled. "Peter was a gifted artist and he knew what to do with it. His photography was sensational. He had about 15 breathtaking pieces…I bought a few of them." Lehr said she also went to dinner a few times at his house in Montauk.
"His house and its view were amazing," she said. "It had a deck that looked right over the high cliffs to the ocean."
This house, closer to the east side of the Point, had been recreated by Peter Beard, after his first house, known as Rhinestein's, also high on the ocean bluffs but further west, had been destroyed by a fire in July of 1977. At the time, Beard was out of town, and the fire tragically consumed thousands of photos, scrapbooks, and his own collection of Picassos, Warhols, and others.
In the summer of 2016, Guild Hall of East Hampton had a retrospective show of Beard's work. Christina Strassfield, who curated this last major solo show at Guild Hall, said that although Beard had been distressed about losing his scrapbooks and diaries which chronicled 20 years of his life, "He was a person who always looked forward, and kept moving on." And he continued to do more work. This Guild Hall show, "Last Word From Paradise," was a combination of drawings, diaries, and collages, from Kenya and Montauk, where there were also photos of Mick Jagger, Jackie Onassis and Andy Warhol. According to Strassfield, this show was one of the best attended in the museum's history.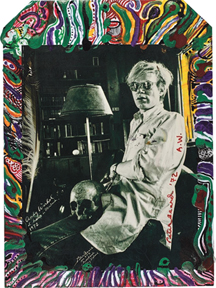 Peter Beard was born into a privileged family on January 22, 1938. He was heir to a railroad fortune on his mother's side, and a tobacco inheritance on his father's side. Beard attended the Buckley School and Pomfret School, and earned a degree in art history from Yale University. As a strikingly handsome young man, he became a model, and began traveling in celebrity circles, hanging out with Mick Jagger and the Rolling Stones, Paul McCartney, his Montauk neighbors, Andy Warhol and Dick Cavett, and also Salvador Dali. His girlfriends included Lee Radziwell, Candice Bergen and Caroline Bouquet.
In 1967 he married Minnie Cushing, an assistant to Oscar de la Renta, in Newport, Rhode Island. De la Renta designed the wedding dress. In 1982, he married supermodel Cheryl Tiegs, in Montauk, which lasted four years.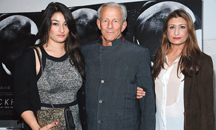 He then married his third and present wife, Nejma Khanum, in 1986, whom he met in Kenya, and they have a daughter, Zara.
Throughout his life, Beard also published several books, including "The End of the Game," a photo book, "Zara's Tales From Hog Ranch," and "Numero 67," as well as "Beyond the End of the World," and others. For many years, several of his photographs hung in the Shagwong Tavern in Montauk, where he would come in and chat with his friend Jimmy Hewitt, the former owner.
One of these photos was of Mick Jagger, Bianca Jagger, and Lee Radziwell, sitting together. Another was one of the famous model, Iman, whom Beard had discovered in Africa, and who later married David Bowie.
And throughout the popular 1970's and 80's, Peter Beard was seen around Montauk, hanging out at Ditch Plains or eating at local restaurants.
"I often waited on Peter and Cheryl Tiegs at Gosman's Restaurant," said Wendy Tuma-Barnes, formerly of Montauk and now living in Asheville, North Carolina. "They were regulars, as well as Dick Cavett, Mick and Bianca Jagger, and Andy Warhol."
Beard was also a regular at Studio 54 in Manhattan, where he loved to party with friends. And on his way out to Montauk, he would often stop at the popular, former Herb McCarthy's Restaurant in Southampton, which is now Union Cantina Restaurant.
Molly Lockwood, former owner of an advertising and marketing firm in Manhattan, who now lives in Florida, said she would sometimes run into Peter and his wife Cheryl back in the 80's, on her way out to her Montauk home. "They were always so much fun—we could talk for hours," she recalled.
Bonni Miller, a fashion designer, model and former Montauk resident, who now lives in Paris, said, "I came upon an exhibit of society 1950's photos in the Louvre, taken by Helmut Newton, and there was one of handsome Peter Beard, when he was a model. He did get around the world with the rich and famous! You never knew who could be walking around the paths of his Montauk house, where my son Kirk Doerner worked as a caretaker. I once came across a group of reporters from Japan sitting under a tree there, but I missed bumping into Paul McCartney!"
She said Beard will be remembered for all the great work he did in trying to save the wild animals from hunters and extinction in Africa, at the expense of getting trampled by an elephant, in 1996, and even swimming in crocodile infested waters.
"He was a man who was concerned about the killing of these beautiful animals, and about preserving their habitats and environment," she said. "He used these images in his art, to bring awareness to this cause."
Information on funeral or memorial services for Peter Beard was not available at press time.