Photos by Richard Lewin Professional Photography (soniboy@aol.com)
Hello and welcome to this month's edition of Montauk Fire Department Corner. I'm sure you all feel like I do, and can't wait for the end of social distancing, but I think all signs indicate that we can see the light at the end of the COVID-19 quarantine tunnel, and we all have to be happy about that.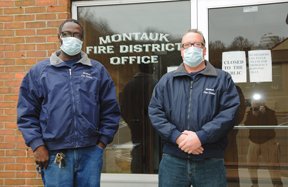 I do want to keep everyone up to date about the Montauk Fire Department's efforts during this trying time. As I mentioned last month, the Montauk Fire Department building has been off limits to all personnel unless there is a call for service, such as a fire, ambulance call, or a motor vehicle accident. This means that our fire and EMT personnel have not been in the building for meetings, training or any social activities since last month. The obvious reason for this action is to keep our Members and the Montauk Fire District staff safe. As you can imagine this has been difficult for all concerned, but I can report that it has been effective. As you can see from the photo by Honorary Chief Richard Lewin, Department Housemen Rex Martin and Brent Becker have been wearing protective masks for everyone's safety. The empty MFD parking lot is a rare and eerie sight.
I am especially proud of the men and women of the Montauk Fire Department during this trying time. We have responded to thirty plus calls for service during the month of April. As always our goals are to provide safe, professional, and prompt service while keeping our Members safe. To this point I'd like to mention again this month how important it is that we follow several simple rules at least for the next few weeks. Wear masks while out in public, as required by East Hampton Town law. Even while wearing masks, please keep a safe social distance of at least 6 feet and wash your hands frequently. Most importantly, use your common sense and be reasonable during your day to day life to do everything possible to keep you and your loved ones safe. Also, hats off to the doctors, nursing and support staff at Southampton Hospital. They have really risen to this occasion and we are proud to work with them.
Lastly, I'd like to speak about the Montauk Food Pantry. As I am sure you have heard, food pantries throughout the country have been hit hard and are doing everything they can to provide food where needed, including for folks who have lost their jobs because of the pandemic. The Montauk Food Pantry is not immune from this. As you can see in the photograph, the food pantry has placed a sign as you come into town asking people who need help to call them. I'd like to make a pitch for them, if you can please donate to the Montauk Food Pantry please do. You can send a check to P.O. Box 997, Montauk, NY 11954. It will be deeply appreciated.
That's all for this month. I hope that next month we will be reporting how things are returning to normal. Please stay safe.
~ Chief David Ryan
         Montauk Fire Department
https://www.montaukfiredistrict.org/