Years ago I did a commercial tuna trip with two brothers. One was a caretaker on Gardiners Island. I've had a fascination with America's oldest privately owned island for a long time. When I noticed there was a short film about the history and lore surrounding Gardiners Island at the Hamptons International Film Festival it was time to learn more about the 5.184 square mile island.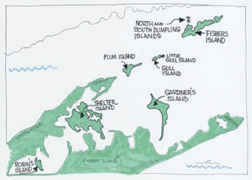 On Saturday October 15th I attended the "Views from Long Island Shorts Program" and watched the World Premiere of "The End", a 16 minute film about Gardiners Island. The island was purchased by Lion Gardiner from the Montaukett Indians in 1639 for a large black dog, some powder and shot, and a few Dutch blankets. The Montaukett's called the island Manchonake which means place where many have died. Lion Gardiner was given the right to possess the island forever through royal decree by King Charles I. It's the only still intact U.S. property given to its owner by royal decree.
The island's been in the Gardiner family for 17 generations. In the 1930s the island was put up for sale but a relative bought it for $400,000 to keep it in the family. Now it's worth well over $100 million. At the end of the film a local historian was asked for his takeaway on Gardiners Island and the East End. He summed up local history simply saying, "the East End is so much more than the Hamptons." It's places like Amagansett, Gardiners Island, Montauk, Springs that make up the East End. It surely is so much more than the Hamptons.
Privateer William Kidd stopped at the island in June 1699 while sailing to Boston to answer charges of piracy. With the permission of the island's proprietor, he buried a chest, a box of gold, and two boxes of silver in a ravine between Bostwick's Point and the Manor House. Indicating to Mrs. Gardiner that the box of gold was intended for the Governor of the Massachusetts Bay Colony, Lord Bellomont. Kidd gave Mrs. Gardiner a length of gold cloth, captured from a Moorish ship off the coast of India, and a sack of sugar in thanks for her hospitality.
Kidd was tried in Boston, and Gardiner was ordered by Governor Bellomont to deliver the treasure as evidence. The booty included gold dust, bars of silver, Spanish dollars, rubies, diamonds, candlesticks, and porringers (shallow silver bowls).