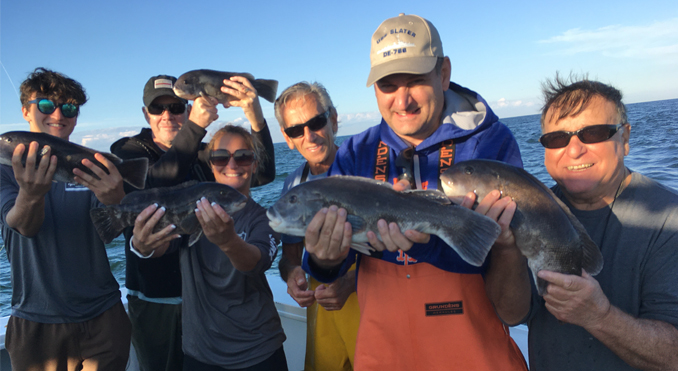 It was noon October 2nd, two days off the "Hunter's Moon," named for how it illuminated fields at the end of harvest season. Lorin, Mike, Mike, Patrick and Ty had joined Captain Steve and I for an afternoon of local bottom fishing.
Steve had done well the day before anchored on a rocky area off the lighthouse. He circled the area a few times with his 36 foot Osmond Beal before we threw the anchor and chain. We attached an inflated ball to the anchor rope with a ring. It would allow us to retrieve the chain and anchor on the surface later. Steve and I knew when the incoming tide ended things would get nautical. Although the dictionary says the word nautical concerns navigation. We use nautical as an adjective for all situations effected negatively by tide, wind & weather. With a stiff west wind the incoming tide and wind were running in the same direction. When the tide started going out conditions would change.
With conditions good Lorin, Patrick, Ty Mike & Mike were catching one keeper black sea bass and tautog after another. Tautogs are also known as Blackfish. "Togs" are a hard fighting fish from the wrasse family. They stay in the rocks they live in when hooked. Big ones can "rock you up." A term we use when they retreat into their rocky lairs. After catching about thirty nice Black Sea Bass and Blackfish the tide started ebbing. It was time to get the anchor up.
Steve and I worked together and the anchor was up behind the boat. Since it was rough in the rips off the lighthouse, Steve drove the boat and trailing anchor northwest to calmer water. We then retrieved the anchor, ball, chain and rope in better working conditions.
We drifted near the "mosquito fleet", a local name given to fly fishermen in center consoles. They flock to the lighthouse during the Fall run for bluefish, little tunny and striped bass. Little tunny are the most common tuna in the Atlantic Ocean. They're hard fighters. Most people call them false albacore. The birds were moving quickly from spot to spot which indicated the speedy little tunny were around. With no striped bass or bluefish taking our diamond jigs it was time to try one more drop on the way home.
We threw the anchor near the Shagwong Reef buoy and got on a high piece. Patrick finished off the trip with two more keeper "tog." A beautiful ending to a wonderful afternoon on the water.