by Sue Giustino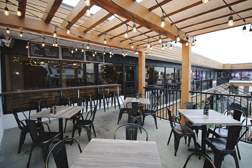 Looking for lobster in almost any type of dish? Lobster bisque, BLT, rolls, melt, boil, surf & turf burger, or quesadillas… well the Lobster House is for you. In addition to appetizers, a build your own burger bar, soups and salads, and sides, they also offer a very reasonable full Kids Meal menu.
Right in the heart of the village on the upper level of the plaza overlooking Main Street, the Lobster House is a casual dining restaurant offering a variety of seating options; an outdoor patio covered with a lovely wood pergola, or at a table or a window seat in the renovated dining area with air conditioning.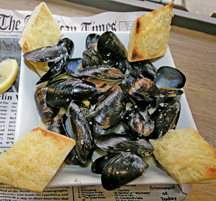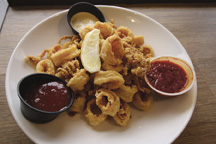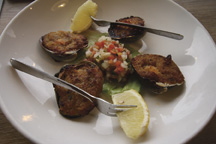 This not being our first visit, we were looking forward to our dinner and trying a few new items from the menu. Although Chef Clive was off, owner/operator and apparently chef- Diego Flores did a fabulous job. For appetizers the Tri-Calamari is a generous plate of crisp and tender calamari with lemon surrounded by bowls of sweet and sour, marinara, and tarter dipping sauce- something for all. Flexin' Those Mussels soaking in a white wine and garlic sauce are tender, aromatic and accompanied by toasted bread with cheese- perfect for dipping in the light flavorful sauce. Last, Clive's infamous Beachin' Baked Clams, served with a fresh Pico de Galo, are a creamy blend of clam with a smoky accent- delicious as always.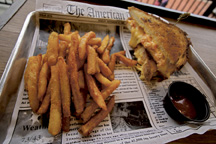 Along with dinner, we enjoyed Wolffers Rose and a California cabernet from their wine list. Trying to vary our meals, we chose the MTK Lobster House Boil, the 3 Fish Tacos, the Gooey lobster Melt, and the Montauk Lobster Roll. Each of the substantial dishes were presented in a coastal casual way in metal trays or baskets. Our lovely waitress Priscila delivered The Boil in a steel tub with 1 ¼ lb. lobster, clams, mussels, shrimp, corn on the cob and potatoes soaking in a light, flavorful old bay broth. This fresh tub of tender seafood tasted as good as it looked. The light, fresh 3 Tacos dish can be either fish, shrimp, or lobster- or a combination of all. I order the fish which was flounder lightly coated and gently fried with a special sauce and greens in soft tortillas. The Montauk Lobster Roll is one of the two rolls they offer, the other is Lighthouse Lobster Roll with chunks of fresh main lobster meat & warm butter on a toasted brioche bread with a side of fries. The one we enjoyed is the Montauk Roll with fresh lobster meat served cold with mayo, celery on a toasted brioche bread & a side of fries. Both of these rolls are delicious and depending on your taste, you'll enjoy either one. Finally, the Gooey Lobster Melt is an amazing grilled three cheese sandwich stuffed with chunks of fresh lobster meat! Also served with their crispy French fries this is a decadent sandwich worthy of a throwback to childhood with an adult flair experience.
If seaside fare is your desire, the Montauk Lobster House is perfect. In addition to all of the lobster dishes and burger bar, they have an 'Off the Hook Seafood Combo Platter', 'Fish & Chippers', Lobster Bisque, Chowder of the Day' and a 'Cali' or ' City Girl' salad. Sit in or out, or at the bar for a delicious, casual meal; call (631) 238-5703 for Catering, Take Out- even beachside drop off, or bring in your fresh caught fish for You Hook 'Em, We Cook 'Em options.
Check out the web site- https://www.mtklobsterhouse.com/ or follow on Instagram & Facebook @ MTKLOBSTERHOUSE or #MTKLOBSTERHOUSE.