Welcome to this month's edition of Montauk Fire Department Corner. Hoping that everyone had a pleasant and safe Easter and Passover. Spring is here and it's time to start getting ready for the warmer weather and visitors to Montauk.
The Officers, men and women of the Montauk Fire Department wish to offer our condolences to the members of the Amagansett Fire Department and to the family of Dwayne Denton, who recently passed away. Dwayne was an Ex-Chief and Ex-Commissioner from the Amagansett Fire Department and was working as a Fire Marshal for the Town of East Hampton when he passed. Dwayne was a good fireman and a good friend. He will be sorely missed.
The Montauk Fire Department's March drill was held on Monday, March 28th at Rough Riders condominiums, not too far from our fire house. The drill was well attended and the training cycle was successful. This drill and all the Department's monthly training is orchestrated by the department Training Officer Steve Seize. Steve
does a remarkable job of providing the Department with monthly updates and the latest in exciting training revolutions. Thank you, Steve.
Fireman Seize also is responsible for the training for probationary firefighters. In March the new firefighters under Steve's direction conducted hose drill training at the Montauk tennis courts and at the fire house. Pictured in this training is Montauk's Thea Grenci, Will Field, Frank Tuma Jr., and Angel, who is from the Springs Fire Department.
On Tuesday, April 19th the Montauk Fire Department hosted the monthly meeting of the South Fork Fire Police Association. The Montauk Fire Department had not hosted this organization since April 2019. Over 100 fire police members, representing fifteen Departments, were in attendance. They included Montauk, Amagansett, Springs, East Hampton, Sag Harbor, Bridgehampton, Southampton, North Sea, Hampton Bays, East Quogue, Quogue, Westhampton, Flanders, Eastport and Shelter Island.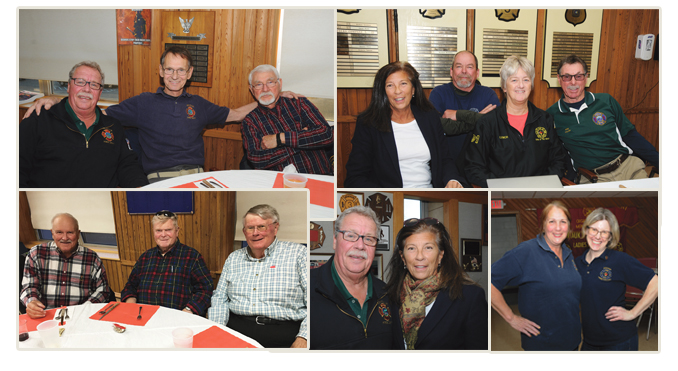 The training session was conducted by Montauk Fire Department Training Officer, Alan Burke. Additionally, Ex-Chief Joe Lenahan and his committee provided a spectacular dinner for all. The Montauk Fire Department has historically had a reputation for providing the best hospitality of any fire department around, and Joe Lenahan always keeps that tradition alive. Thank you, Joe.
That's it for this month's edition of Montauk Fire Department Corner. Thank you for keeping abreast of the activities of the MFD. See you next month.
https://www.montaukfiredistrict.org/