Hello, and welcome to this month's edition of the Montauk Fire Department Corner.
The Montauk Fire Department would like to congratulate Marilyn Behan for being named this year's Grand Marshal of the Saint Patrick's Day Parade. Marilyn is a great choice for this honor, particularly since this is the sixtieth anniversary of the Montauk Friends of Erin Parade. Marilyn and her late husband John Behan (1979 Grand Marshal) worked very hard over the years, both for the Friends of Erin and for the community of Montauk. They founded, and were the host and hostess of, the Grand Marshal Luncheon for many years. The members of the Montauk Fire Department look forward to marching proudly with Marilyn in this year's parade.
On Monday, January 24th the Montauk Fire Department conducted our first drill of 2022. The drill was conducted in downtown Montauk utilizing multiple pieces of fire apparatus. Participating Members of the Department worked on truck positioning, scaling buildings, and water supply.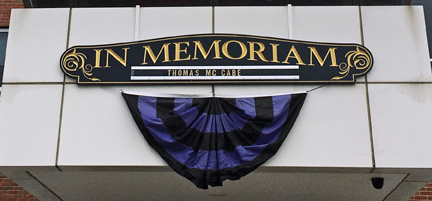 On Wednesday, January 26th former Montauk Fire Fighter Tom McCabe passed away after a long illness. Tom, a retired Lieutenant with the Southampton Town Police Department, was active in the Montauk Fire Department in the 1960's and 1970's. The Officers and Members of the Montauk Fire Department offer our condolences to Tom's family and friends.
The MFD performed well during the blizzard on January 29th. There were standby crews stationed at the fire house for both firefighting and ambulances calls. Chief Scott Snow responded to several residences of elderly people to check on their well-being and thankfully there were no problems.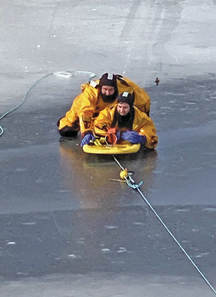 Additionally, thank you to former Chief Mitchell Valcich and the East Hampton Town highway crews who provided plows in case they were needed for our trucks, and ambulances to get through the drifting snow.
On Sunday, February 6th the department conducted an ice rescue drill in Fort Pond. This is extremely important particularly during a cold winter like the one we have been experiencing this year. This drill was supervised by Firefighter Denis O'Reilly and was very beneficial to all who attended.
Thank you for keeping up with the events of the Montauk Fire Department through the Montauk Fire Department Corner. Have a safe and joyful Saint Patrick's Day. See you next month.
~ Scott Snow, Chief, Montauk Fire Department
https://www.montaukfiredistrict.org/