Welcome to this month's edition of Montauk Fire Department Corner. Hoping that everyone had a fun and safe Fourth of July weekend and that you are enjoying this beautiful summer weather.
As you can imagine, we have been extremely busy at the MFD. Since our last article was printed in late June, we have answered over one hundred calls for Emergency Medical Services, over ten fire calls, and ten motor vehicle accidents. Over the Fourth of July weekend alone, there were twenty-three Ambulance calls, including a CPR save, four fire calls, and four motor vehicle accidents, including one requiring the use of heavy rescue apparatus.
We are more than proud of the Department's men and women who step up and volunteer to assist our citizens and visitors.
On June 25th the members of the Montauk Fire Department responded to a call about a gas leak at the Montauk Shores Condominium in Ditch Plains. The leak was discovered and corrected promptly without incident.
On Monday, June 27th the Department held a barbeque at the main firehouse on Edgemere Road. This has become an annual tradition. The barbeque is held in lieu of the June department drill. As you can see from the photos, it was raining but it did not deter anyone from having a nice time.
On Monday, July 4th the Department assisted the Montauk Chamber of Commerce with this year's Fourth of July fireworks. The show was attended by thousands of patriotic fans, and, as always, everyone had a great time.
On July 9th and July 10th the MFD responded to two motor vehicle accidents, one on Old Montauk Highway and the other on Route 27.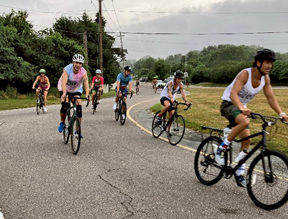 Heavy rescue was needed to extract one victim at the two-car accident on Old Montauk Highway, and, in the second accident, a motorcyclist was extremely fortunate to suffer only "road rash" when he collided with a deer on Route 27 near Lincoln Road.
On Sunday, July 17th the Montauk Fire Department EMS and Fire Police assisted with patient care and traffic control for the annual Montauk Point Triathlon. Over 500 athletes participated in this event, including our very own EMT Lauren Chakraborty, who competed in and finished her first ever triathlon. Congratulations, Lauren! We are pleased to report that there were no injuries during this event.
That's it for this month's edition of Montauk Fire Department Corner. Enjoy the rest of this fantastic summer. Stay safe.