Animals of the Month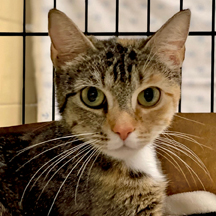 Colette: This adorable young momma cat and her two kittens came to ARF through our Operation Cat program earlier this month. Colette's kittens were quickly adopted, and now it's her turn. Colette is a sweet and affectionate cat who is as playful as her kittens. She has quickly warmed up to the ARF staff, and she will make an easy transition into a home.
Hot Dog: If you are looking for a fun-loving, dynamic dog, then Hot Dog is the dog for you! Hot Dog doesn't discriminate. He loves everyone he meets. He is approaching this 3rd birthday, but this goofball thinks he's still a puppy. Hot Dog has come a long way in his obedience training, and he continues to make strides as long as good treats are involved. Give this outgoing boy a home, and he will be sure to put a smile on your face each and every day.
For more information contact adoptions@arfhamptons.org or call 631-537-0400 x203.
All ARF animals are vet checked, spayed/neutered, microchipped and up to date on all vaccines.
To view all of our adoptable animals, visit: www.arfhamptons.org
NYS Registered Shelter/Rescue #RR035
---
ARF's Bow Wow Meow Ball @home
ARF's Champion of Animals award will be presented to Kathleen and Charlie Marder for their devotion to our community and their support of ARF Hamptons for the past 30 years.
On Saturday, August 6th the Animal Rescue Fund of the Hamptons (ARF Hamptons) (www.arfhamptons.org) invites you to tune in for free to our Bow Wow Meow Ball @home. The evening will celebrate ARF's life-saving work and honor Kathleen and Charlie Marder with the Champion of Animals Award. Kathleen and Charlie Marder started their landscaping business in 1975, just a year after ARF was founded, and they have been supporting ARF's work in the community for 30 years. Through adoption events, garden tours, Thrift Shop donations, silent auctions – not to mention landscaping – their contributions to ARF tell only part of the story of their dedication to our community.
While the ARF campus remains under construction, the public is invited to join the celebration virtually and watch wherever they might be or to host a private viewing party (big or small, fancy or simple). The evening's program will premiere a 15-minute video about Wink and Buddy, two local animals in need who found their forever families with the help of the ARF Hamptons community. The program will also offer a look at progress on Forever Home, the project to renovate, re-build, and expand ARF's campus, and the ever-popular Parade of Animals returns, filmed on location this year in East Hampton Village and presented by Lexus of Southampton and Mercedes Benz of Southampton. Show your support by watching on Saturday, August 6. More details, and to watch the program at www.bowwowmeowball.org.
All proceeds from The Bow Wow Meow Ball @home will benefit ARF, a regional leader in New York for the rescue and adoption of cats and dogs. Since its inception, ARF has rescued more than 30,000 cats and dogs and placed them with loving families.