October 2020
Photos by Richard Lewin Professional Photography (soniboy@aol.com)
Good day, and welcome to this month's edition of the Montauk Fire Department Corner. The month of September seemed to fly by, and I hope everyone is having a nice late summer/early fall. The weather has continued to be great and I am sure everyone is looking forward to Columbus Day weekend, and Montauk's Fall Festival.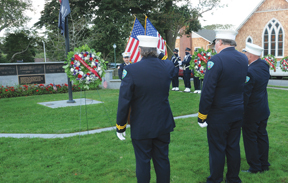 As we do every year the Montauk Fire Department participated in the annual 9-11 Memorial held at Hook Mill in East Hampton by the East Hampton Town Chiefs Association. However, this year due to COVID-19 social distancing protocols it was only attended by me as Department Chief, First Assistant Chief Scott Snow, and Second Assistant Chief Ken Glogg. It felt strange being there with the rest of the Chiefs from the East Hampton Town Fire and Police Departments, but without the rest of our members who are usually there to show tribute to the fallen of 9-11, but it was also a great honor. I look forward to next year when we will all be able to participate in this event again. Please enjoy the photos of the Memorial taken by Honorary Fire Chief Richard Lewin.
It is with deep regret that I report the passing of Montauk Honorary Fire Chief and Ex-Montauk Fire District Commissioner Jim Hewitt. As you may have read recently in a story by Richard Lewin, Jimmy is one of only six people in MFD history to hold the rank of Honorary Chief of the Montauk Fire Department. Jim was a true "Montauk Guy" who, through his actions both publicly and privately, helped many people in need. He was a fixture on Montauk Main Street for close to half a century. His presence will be sorely missed. On behalf of the men and women of the Department, I would like to express our condolences to the Hewitt family.
The Montauk Big Bucks drawing was held last month on Sunday, September 20th. Again, due to the COVID-19 virus, and social distancing rules, this year for the first time we televised the prize drawing on Instagram. Although the circumstances were different this year, we still managed to give out $165,000.00 during the hour-long program. This makes the total of prizes awarded from the Montauk Fire Department's Big Buck Bonanza to be more than $6,500,000.00. This event would not be possible without Fireman Rick White and Eve Lenahan who chair this event and work all year to insure its success. I would like to publicly thank them and all the people from the Department who assist them in making Big Bucks the great annual event that it is. Congratulations to all of this year's winners.
Here are this year's six big prize winners:
$5,000.00 winner Dennis Broderick
$10,000.00 winner(s) Kim Smith & Frank Petikas
$15,000.00 winner Stephanie Shaw
$20,000.00 winner Sharon Burns
$30,000.00 winner Dean Heitner
$50,000.00 winner Robert W. Keil
We are already preparing for the 2021 Big Bucks Bonanza as we speak, and tickets are available. You can download application(s) on the Montauk Fire Department website (montaukfiredistrict.org) or on Instagram at MFD Big Bucks. Get a ticket early, as we were all sold out last year by June 1st. Next year's drawing will be on Sunday, September 19, 2021.
Thanks for keeping up with the events happening around the Montauk Fire Department. Have a safe and enjoyable holiday weekend and we will be talking to you again next month.
~ Mitchell Valcich,
    Chief, Montauk Fire Department
https://www.montaukfiredistrict.org/