October 2020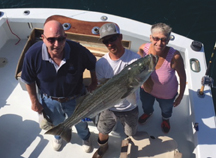 The 2020 fishing season is on an official "time out" thanks to mother nature. The past 6 days prior to going to press, it has been blowing an average of 20 kts. from the North and Northeast. But we really can't complain because those Canadian clippers are keeping those hurricanes far out at sea away from us! Up until then, the action has been nothing short of steady. The Fluke even started to wake up and were close as well. South side off the Radar from 55 foot out to 65 foot was producing good action with keepers. The area south of the Elbow had fish there also. Rocky Hill even had some nice keepers coming over the rail. The weather is breaking on Thursday the 24th, so there will be a whole new clean slate to see what happens after the blow.
Meanwhile during the blow loads of baitfish all along the north bar area and all down the south side drew tons of birds feeding on the sand eels and hog nosed anchovies. Underneath them were loads of cocktail Blues and juvenile striped bass, providing action for the anglers braving fishing in the surf! Yes, it seems like an early start to the famous Montauk Fall Run.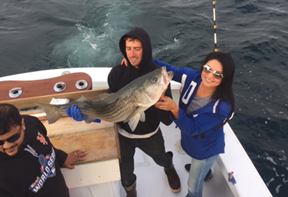 Before the blow the bottom fishing has been excellent. The Black Sea Bass and jumbo porgy have been cooperating very well. All along the South side Porgy have been consistent. Venture further out over by Block Island, the Porgy and Black Sea Bass, have been even more cooperative and large!
Areas around 20 minutes east and southwest ledge all producing nice fish. Go out a little further on the south side of the windmills and out to the Appletree, you have a chance at seeing some of the biggest porgy ever and an occasional Codfish thrown in the mix! Of course the Black Sea Bass with the big knots on their heads will greet you too.
The offshore report has been on hold too, but the sharks are still there as of the last reported day of fishing, but the sharks have really taken the backseat to the Tuna this season for the first time in years. The Ranger wreck, Coimbra, Texas Towers, Bacardi, still holding fish! It will be interesting to see where they are after the blow.
Keep in mind the Fluke Season closes on September 30th, still got plenty of time to get those Flatties, 19″ at 4 per person. The Black Sea Bass bag limit is 7 per person till December 31st, at 15″ total length.
Tautog (Blackfish) opens October 15th, 16″ total length, 4 fish per person in the NY Bight region. Long Island Sound region: 3 fish per person opens October 11th. Same 16″ total length.
Stay Safe, Stay Well, Have fun, and catch em' up!!
~ Tight Lines, Captain Skip
www.adiosboat.com  •   www.facebook.com/adios.charters