by Sue Giustino
The Deep Hollow Ranch, established 1658, is the oldest working Cattle Ranch in the United States and is part of the Suffolk County Parks. Concessionaires, Patrick and Cate Keogh, have been running the ranch since they took it over in 2010. Cate, the caretaker, who is born and raised in Montauk, handles the day to day operations as well as being a trail guide when needed. She and Pat, who has been here for over 30 years, have a long history with the operations of the ranch. They worked the ranch with previous keepers for
about thirty years, left for a bit to establish other livelihoods, but always had ties to the ranch with their own horses, and lending a helping hand when requested. They were married 22 years ago at third house, overlooking the ranch. Now their children Francesca, Broudy and Rohan, can also be seen around the ranch guiding groups, helping riders on and off, and even with feeding, care, and maintenance of the horses and ranch.
The ranch is open year-round offering trail rides from age 6, and even pony rides around a corral for the little ones 5 and under. A popular ride is the trail to the beach, riders must be 8 and over for this one. It's 90 minutes of walking and trotting through the beautiful parkland opening onto the beach at Oyster Pond for a ride along the shore and then back through the trail to the ranch. Due to Covid 19, they've had to reduce the number of trail options, so the only other trail is the half hour ride through the parkland. This is a beautiful 'walk only' ride, kids starting at age 6 can ride as well. It's perfect for families with young children, anyone who wants to give it a try, or just enjoy a shorter ride.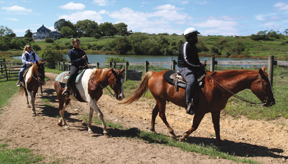 The trail guides are skilled riders eager to share the basics of riding a horse, as well as helping their guests savor the experience. Besides the fun of being on a beautiful horse, the surrounding panoramic view of the parkland makes for a perfect experience. With horses out in the corral, and others grazing on the hill above the stable next to third house, it doesn't get much better. So stop by to visit the horses, or call for a trail ride…you'll love it.
631-668-2744 • www.deephollowranch.com