August 2020
Photos by Richard Lewin Professional Photography (soniboy@aol.com)
Good day and welcome to this month's edition of the Montauk Fire Department Corner.
I hope everyone is enjoying the summer season in Montauk. I know it has been a little strange this year, but I feel we are all making the best of a tough situation. It is important to stay focused and I know there are better days ahead.
Good news from the MFD. Our doors were reopened for members on July 1st, a sign that we are heading in the right direction.
I would like to congratulate the students who graduated at the end of June from Montauk Public School and East Hampton High School. I am proud to say that the Montauk Fire Department helped with the graduation celebration this year. As you can see by the beautiful photo taken from the MFD tower ladder at the Montauk School graduation, the Department played an important role. Several pieces of fire apparatus led the parade and Fire Police served as traffic control for Montauk students and their families as they returned to Montauk after the brief ceremony at East Hampton High School. Best wishes to them all and good luck in the future. Here is a photo of another one of the Montauk Fire Department scholarship winners, Thomas Desmond, who will be attending Georgetown University in the fall.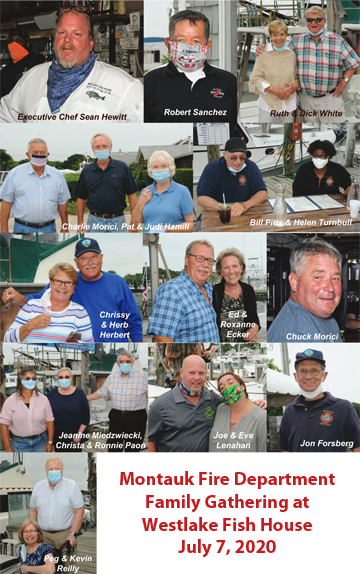 MFD Company No. 6 held a Family Gathering on July 7th to get together and celebrate Independence Day. It was held at the Westlake Fish House, where executive chef Sean Hewitt set out a great spread as always. Around 40 members and guests had a great evening of eating and socializing. Please enjoy the photos taken by Honorary Chief Richard Lewin.
On Friday, July 3rd members of the Department were called into service to respond to a three-car accident on the Old Montauk Highway, a little west of Gurney's Montauk Resort & Seawater Spa. Out of the three cars, five people were injured enough that they needed to be transported to Stony Brook Southampton Hospital. I would like to thank our brother/sister department to the west, Amagansett Fire Department, for responding and assisting with an ambulance. Their assistance is always appreciated.
You have probably noticed signs posted around town reminding bicyclists to ride in the direction of vehicle traffic, and for pedestrians to walk opposite
traffic. A big Thank You to itrigirls.org and East Hampton Town.
I also would like to add a few additional safety tips. When walking, please walk against traffic. Please listen and look for emergency vehicles when driving and safely pull over to let emergency vehicles pass. Please take your time and be courteous to other motorists, bicyclists and pedestrians when on the road.
Thank you for reading MFD Corner, and please safely enjoy the rest of the beautiful summer in Montauk.
~ Mickey Valcich, Chief, Montauk Fire Department
https://www.montaukfiredistrict.org/