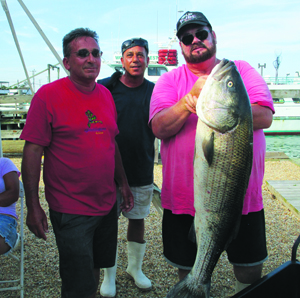 Uihlein's Marina in Montauk was crowded with people who watched from a tent as numerous fish were being weighed in on a big scale. The fishermen were competing in categories for the biggest fish in 4 categories: blues, striped bass, sea bass and fluke.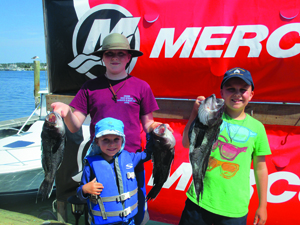 This was the 14th annual Mercury Marine Grand Slam Fishing Tournament, which took place on July 16 and 17, with many boats participating. The boats were in different categories as well: recreational, commercial/professional, and party boats. There were judges who wrote down the weights of about 260 fish brought in over the two-day period, and there were big signs hanging all around to show the 25 local businesses which sponsored this big event. Points per pound were given to each fish species, and the boats must leave from and return to Montauk Harbor.
"This is the only fishing tournament of its kind," said Henry Uihlein, of the East Hampton Kiwanis Club, which organizes and runs this tournament along with the Montauk Friends of Erin. "We hold it each year because Montauk is one of the fishing capitals of the world, and it raises money for good causes, from these two groups." These two service organizations raise money for Toys For Tots, Meals on Wheels, pediatric trauma, youth services, scholarships, local parades, and sports programs.
Dan DeGray, of Mercury Marine, said it was his fifth year at the tournament, and he hopes it continues for years to come. Rick White, incoming President of the East Hampton Kiwanis Club, was helping to organize the event as well as Joe Bloecker, of the Montauk Friends of Erin. Jerry Schneider, of the EH Kiwanis, sold Grand Slam T-shirts. Tom Dolan, of the EH Kiwanis Club, sponsored the kids division.
Each year, during this tournament, they honor a Montauk fishing captain, and this year it was Captain Jake Nessel, who has been fishing the waters of Montauk for over 50 years. His younger brother, Captain Richie Nessel, looked on in the crowd.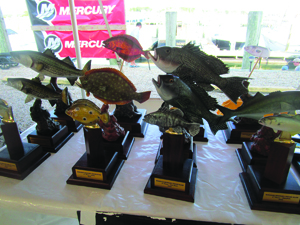 Jake came to Montauk in 1951, at age 11, and fished on charter and party boats..he left to work in the city but came back and fished with Capt. Richie Rade.
"I just can't get enough of Montauk," he smiled.
Captain Joe McBride honored Jake Nessel on behalf of the Montauk Boatmen & Captain's Association, calling him, "One of the finest fishing icons and a gentleman on the water."
Captain Tom Jordan said, "Jake's been running charter and party boats since 1955…he won the first shark tournament in Montauk, and he gained his knowledge through a lifetime on the water."
Captain Billy Urvelack, who worked with Jake on the Ebb Tide, said, "Jake is the nicest man and has done so much for the fishing community."
In past years, The Grand Slam Tourney has honored other captains including
Paul Forsberg, Bob Tuma, Ken Bouse, and Harry Clemenz.
During the recent Grand Slam, many beautiful fish trophies were handed out to adults and kids in all categories. There were first, second and third prizes for each species caught. First Place bluefish was William Callas, First prize fluke was Jeff Harrison, and First Place Seabass was Isaac Tilstra.
Will Quackenbush, 9, of Covington, Georgia, won a rigid inflatable boat with a motor during the raffle. The winning Montauk Mercury Marine Grand Slam team, who won the 150 horsepower Mercury outboard motor and trophies, included Shawn Ackley, Jonathan Perkins, Al Williamson, and Jeff Harrison.
Throughout the tournament, there was great music performed Patty and Rob Mead, of "From the Heart." There was also a wonderful magic show for the kids, performed by Joe Garsetti, an illusionist, of Montauk, who amazed everyone with his live birds, rings, and ropes.