Montauk's 2016 summer started off great especially when local, Nancy Atlas of the Nancy Atlas Project rocked at Gosman's Dock on Sunday, July 10th. My husband and I brought our folding director chairs, magic blanket for good weather, bottled water, and delicious french fries bought from the Clam Bar to enjoy the evening with friends who come early in order to get front row seats.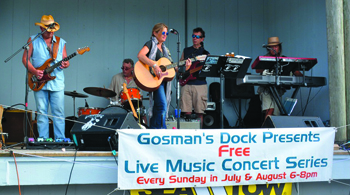 We were greeted by Ms. Atlas herself who came to us during practice while checking out her sound systems with four other band members: Johnny Blood on Lead Guitar, Richard Rosch on Drums, Neil Surreal on Organ, Keys, and Accordion and Brett King on Bass. The weather certainly cooperated. The few drops of rain that started halfway through the concert didn't dare last more than a minute after everyone willed it away. It was good to see familiar faces who frequent the July and August yearly gig: those who live here, and the visitors who come to find out what Montauk's magic is all about.
Ms. Atlas who is also a songwriter, dedicated her new CD song "The Tale of Johnny Load" to Johnny Aldridge, a fisherman, who in July 2014 fell off his boat, The Anna Mary, in the middle of the night while his partner Anthony Sosinsky (aka Little Anthony) was asleep in the hull and didn't hear a thing. Miraculously, Johnny was found alive by the U.S. Coast Guard, 43 miles off Montauk Point after searching more than 12 hours. Mr. Aldridge survived the hot sun and shark infested waters by cleverly using his boots as floats.
It was good to see Ms. Atlas's whole family again, including her husband Tom, her children Cash, Levon and Tallulah and her Mom. After the concert, the crowd going home received an added bonus of watching a beautiful sun set on the horizon and a rainbow directly opposite it.
If you're in Montauk this month, make sure to visit Gosman's on Sunday evenings from 6-8pm and on Mondays at the Village Green or Carl Fisher Plaza from 6:30 to 8:30pm. Bring your chairs and blankets and be ready to have some fun. For future info on where Ms. Atlas will be performing, kindly check www.nancyatlas.com. For more Montauk happenings please check: montaukchamber.com/events.  Enjoy!