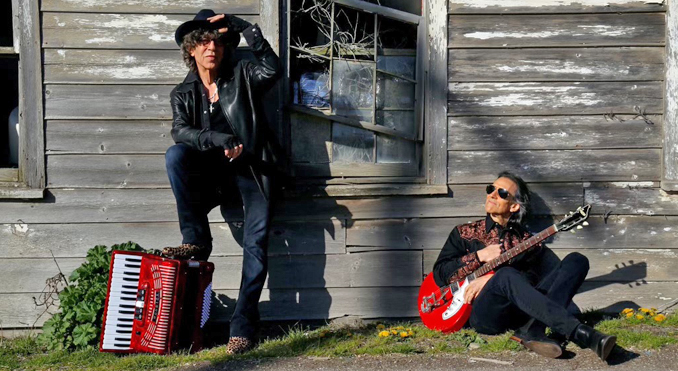 Montauk is musical.  It has the shushing waves, whispering winds, and world-class musicians playing between the dunes in wonderful collaborations.  One of the best combinations is "Joe & Klyph's Excellent Jam.  They have a new album — "Westerntime."
"Westerntime" is a collection of 13 songs Joe Delia and Klyph Black brewed on the beach.  It will launch at a show at The Stephen Talkhouse at 8pm on June 26th. Joining them to play those songs, and some of their previous hits, like "Under the Montauk Moon" and "Reno," will be James Benard (drums), Al Buonanno (bass), PJ Delia (vocals) and Greg McMullen (pedal steel guitar).
The new music is full of various styles of American music, mostly deliciously played and lyricized originals. There are many unique strokes, like the appearance of cult favorite Director Abel Ferrara ("King of New York") singing on a Dylan cover and an unusual take of Jim Reeves' "He has to Go," which makes for avid listening.
If you want to listen to one song at a time, singles are being released periodically all spring and summer on Apple Music, Amazon Music, Spotify, Pandora and wherever you download or stream your music.  The first — "Love is A Highway" — is out already.  This uplifting song is a crowd pleaser…audiences the past few months have begun singing along immediately when it's played live.  Local radio has discovered it too.
This attention is not new. Joe and Klyph each has a long, storied, history of being streamed, aired, and admired on stage.  Joe is known for his fiery stage persona, has two gold records and a platinum so far, and has composed the scores for over 40 feature films.  Klyph has been touring nationally for decades and is in demand everywhere for his stage presence, soulful singing, songwriting and mad skills on all kinds of guitar.
These rockers were playing various types of gigs, separately and apart, locally and internationally until late February 2020. When things shut down, each turned to writing songs and invited each other to play on them at the studio in Montauk.  Upright bass, acoustic, slide, pedal steel and acoustic and electric baritone guitars, piano, organ, violin, and even an accordion were thrown in the mix.  Fellow music makers — James Benard, Randy Hudson, Jason Crosby, Kevin Griffin, Tom Circosta, and Al Buonanno — added their skills to the songs, along with Ferrara and PJ Delia singing duet and backgrounds.
The result is truly an Excellent Jam.
Tickets for the "Westerntime" launch available now online and at the door at The Stephen Talkhouse.  https://www.tixr.com/groups/stephentalkhouse/events/joe-klyph-s-excellent-jam-album-release-40945